Face Up
Lisa Stansfield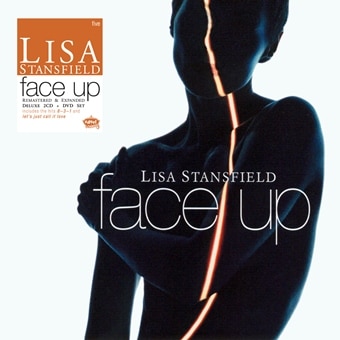 Release information
Release information
Label: Edsel
• Format: CD, DVD & Blu-ray
• Date: 10/11/2014
Cat#: EDSG8057
• Barcode: 740155805739
• Genre: Dance, Pop
Track Listing
I've Got Something Better
Let's Just Call It Love
You Can Do That
How Could You?
Candy
I'm Coming To Get You
8-3-1
Wish On Me
Boyfriend
Don't Leave Now I'm In Love
Didn't I?
Face Up
When The Last Sun Goes Down
All Over Me
Can't Wait To
Let's Just Call It Love [Original Vocal Mix]
8-3-1 [Ian Devaney Remix]
Let's Just Call It Love [Dreemhouse Full Extended Mix]
More Than Sex
8-3-1 [Morales Radio Mix]
I've Got Something Better [Trackmasters Remix]
All Around The World [Norty Cotto Remix]
Let's Just Call It Love [Silk Cut Mix]
8-3-1 [Morales Alternative Club Mix]
All Around The World [Junior Vasquez Earth Anthem]
Let's Just Call It Love [DYNK Vocal]
8-3-1 [Morales Dub]
All Around The World [Norty's World Dub]
Let's Just Call It Love [K Warren Full Vocal]
Let's Just Call It Love
8-3-1
The Real Thing
So Natural
Make Love To Ya
Tenderly
Someday (I'm Coming Back)
Don't Explain
They Can't Take That Away From Me
Didn't I?
Change
Live Together
I've Got Something Better
Face Up
All Woman
Never, Never Gonna Give You Up
People Hold On
All Around The World
2014 Interview with Mark Goodier
About this release
Lisa's final album for Arista, 2001's Face Up was both forward-thinking and as timeless as ever, exploring contemporary beats with the garage hit Let's Just Call It Love and mining more classic grooves such as for the latter-day Northern Soul favourite 8-3-1.
This remastered Deluxe Edition is expanded to feature rare tracks and 12″ mixes including previously unavailable 2003 remixes of the #1 All Around The World, plus videos, live footage and a specially recorded interview with Lisa. The 28-page casebound book features photos, memorabilia, lyrics and brand new sleeve notes.
The DVD features a promo video (track 1), Live at Ronnie Scott's 2002 (tracks 2-18) and an interview with Mark Goodier.