Expecting To Fly – 25th Anniversary Edition (Amazon Exclusive – 180g Blue Vinyl + 12″ Single)
The Bluetones
Expecting To Fly – 25th Anniversary Edition (Amazon Exclusive – 180g Blue Vinyl + 12″ Single)
The Bluetones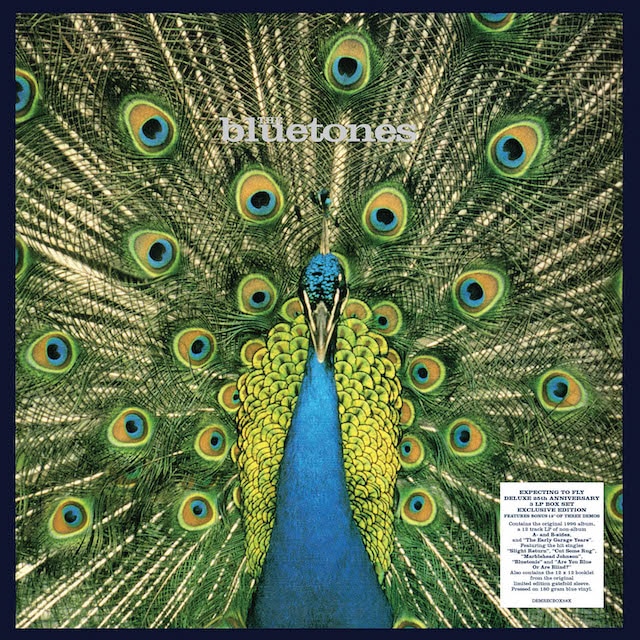 Release information
Release information
Label: Demon Records
• Format: Vinyl
• Date: 06/08/2021
Cat#: DEMRECBOX58X
• Barcode: 5014797905405
• Genre: Alternative, Indie
Sub Genre: Britpop
Track Listing
Talking To Clarry
Bluetonic
Cut Some Rug
Things Change
The Fountainhead
Carnt Be Trusted
Slight Return
Putting Out Fires
Vampire
A Parting Gesture
Time & Again
Are You Blue Or Are You Blind?
String Along
Driftwood
Colorado Beetle
Glad To See Y'Back Again
Don't Stand Me Down
Nae Hair On't
Castle Rock
The Devil Behind My Smile
Marblehead Johnson
The Simple Things
Nifkin's Bridge
Are You Blue Or Are You Blind? [demo]
Talking To Clarry [demo]
Carnt Be Trusted [demo]
Slight Return [limited edition UK/Japan 7" single]
No. 11 (Bluetonic) [from the Fierce Panda "Return To Splendour" EP]
The Fountainhead [demo]
Time & Again [demo]
Cut Some Rug [homemade 4-track recording]
Talking To Clarry [homemade 8-track recording]
Are You Blue Or Are You Blind? [homemade 8-track recording]
Time & Again [4-track demo]
Cut Some Rug [4-track demo]
Putting Out Fires [4-track demo]
About this release
AMAZON EXCLUSIVE EDITION: Includes a 12" single featuring three previously unreleased demos (mastered for this compilation by Nigel Clark of Dodgy).
Hailing from Heston in West London, The Bluetones (Scott Morriss – bass, Eds Chesters – drums, Adam Devlin – guitars, and Mark Morriss – vocals) arrived on the scene in 1995 with their debut single "Are You Blue Or Are You Blind?". They followed this up with "Bluetonic" and then "Slight Return", which reached # 2 on the UK singles chart. The debut album "Expecting To Fly" was released in February 1996, and went straight to # 1.
This 3 LP box set contains the original 1996 album, a 12 track LP of non-album A- and B-sides, as well as the collection of pre-fame demos "The Early Garage Years". The box also contains the 12 x 12 booklet from the original limited edition sleeve.
The three LPs are pressed on 180 gram blue vinyl.