Evergreen: The Very Best of Hazell Dean
Hazell Dean
Evergreen: The Very Best of Hazell Dean
Hazell Dean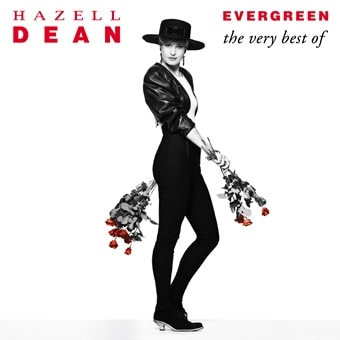 Release information
Release information
Label: Music Club Deluxe
• Format: CD
• Date: 10/09/2012
Cat#: MCDLX168
• Barcode: 5014797671683
• Genre: Pop
Track Listing
Whatever I Do (Wherever I Go)
Who's Leaving Who?
Searchin' (I Gotta Find A Man)
Maybe (We Should Call It A Day)
Turn It Into Love
Back In My Arms (Once Again)
No Fool (For Love)
Love Pains
They Say It's Gonna Rain
Evergreen
Jealous Love
Better Off Without You
Stand Up
Always Doesn't Mean Forever
E.S.P. (Extra Sensual Persuasion)
Keeping It Together
Call And Say
Can't Help The Way That I Feel
More Than Words Can Say
Are You Man Enough?
Tell Me (You'll Wait For Me)
Searchin' (I Gotta Find A Man) [Mega-Mix]
Whatever I Do (Wherever I Go) [1987 Extended Remix]
Who's Leaving Who? [Alternative 12" Mix]
Maybe (We Should Call It A Day) [Alternative Extended Version]
Turn It Into Love [Extended Version]
No Fool (For Love) [Dance Version]
Evergreen [Extended Version]
Jealous Love [Extended Version]
Can't Help The Way That I Feel [12" Master]
Love Pains [Rawhide & Bullwhip Mix]
Better Off Without You [A Touch Of Leather Mix]
About this release
Hazell Dean has remained one of the world's leading Hi-NRG & Dance-pop artists throughout her ongoing 35+ year career. The gay and lesbian icon and chart heroine has had twelve UK chart hits, all included on her first 2 CD collection Evergreen: The Very Best of Hazell Dean.
CD 1 features chart blockbusters "Whatever I Do (Wherever I Go)", "Who's Leaving Who" and "Searchin' (I Gotta Find A Man)" as well as more hits and 3 previously unreleased mixes from the PWL archive.
CD 2 features a host of material available for the first time on CD including rare and unreleased mixes of "Maybe (We Should Call It A Day)" and "No Fool (For Love)" and more making this the essential Hazell Dean collection.