Eighties Alternative (Vinyl)
Various Artists
Eighties Alternative (Vinyl)
Various Artists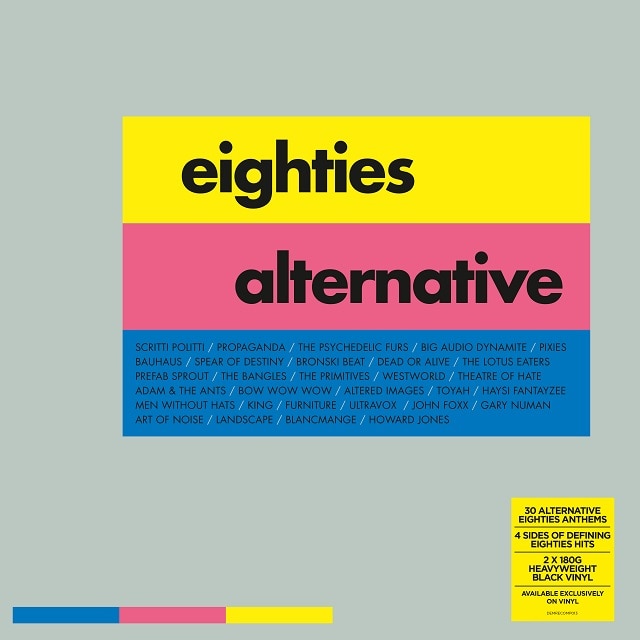 Release information
Release information
Label: Demon Records
• Format: Vinyl
• Date: 01/06/2018
Cat#: DEMRECOMP013
• Barcode: 5014797897205
• Genre: Alternative, Pop
Track Listing
Scritti Politti - Absolute
Propaganda - Duel
The Psychedelic Furs - Pretty In Pink
Big Audio Dynamite - E=MC2
Pixies - Monkey Gone To Heaven
Bauhaus - Kick In The Eye
Spear Of Destiny - Liberator
Bronski Beat - Smalltown Boy
Dead Or Alive - That's The Way (I Like It)
The Lotus Eaters - The First Picture Of You
Prefab Sprout - When Love Breaks Down
The Bangles - Hazy Shade Of Winter
The Primitives - Crash
Westworld - Sonic Boom Boy
Theatre Of Hate - Do You Believe In The Westworld
Adam & The Ants - Dog Eat Dog
Bow Wow Wow - Go Wild In The Country
Altered Images - I Could Be Happy
Toyah - I Want To Be Free
Haysi Fantayzee - Shiny Shiny
Men Without Hats - Safety Dance
King - Love And Pride
Furniture - Brilliant Mind
Ultravox - Vienna
John Foxx - Underpass
Gary Numan - Music For Chameleons
Art Of Noise - Close (To The Edit)
Landscape - Einstein A Go-Go
Blancmange - Living On The Ceiling
Howard Jones - What Is Love?
About this release
Exclusive to Vinyl
30 Alternative Classics of the Eighties from the Seminal Artists of the Decade. Housed in a Gatefold Sleeve with Original Artwork & Pressed on 2x 180G Heavyweight Black Vinyl. Artists including Scritti Politti / Ultravox / Bauhaus / Adam & The Ants / Bow Wow Wow / King / Toyah / Altered Images / The Psychedelic Furs / Pixies / Howard Jones / Dead Or Alive / The Bangles and many more.