Eddie Piller Presents The Mod Revival (Blue and Red Vinyl)
Various Artists
Eddie Piller Presents The Mod Revival (Blue and Red Vinyl)
Various Artists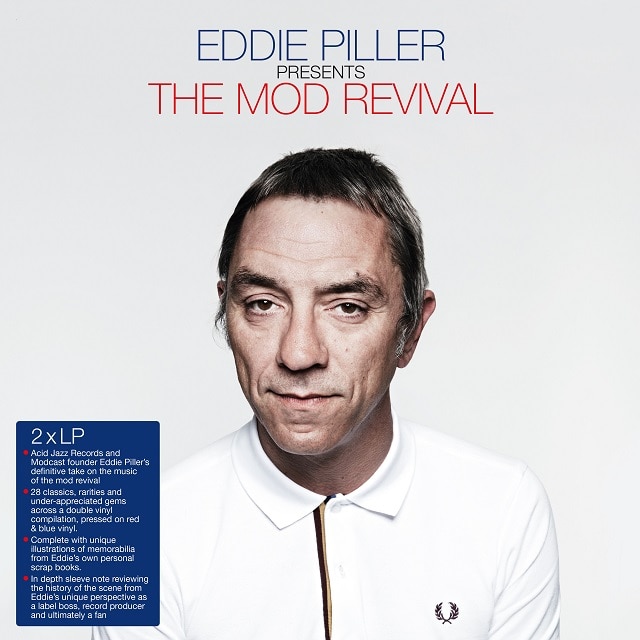 Release information
Release information
Label: Demon Records
• Format: CD
• Date: 18/09/2020
Cat#: DEMREC652
• Barcode: 5014797902220
• Genre: Rock, Ska
Track Listing
The Jam - I Got By In Time
Secret Affair - Let Your Heart Dance
Purple Hearts - Frustration
The Chords - The British Way Of Life
Long Tall Shorty - Falling For You
Teen-Beats - Strength Of The Nation
Madness - The Prince
The Directions - Three Tonight
Lambrettas - Go Steady
Back To Zero - Your Side Of Heaven
Small Hours - Can't Do Without You
The Circles - Opening Up
The Merton Parkas - Flat 19
Fast Eddie - Shake A Tail Feather
Dexy's Midnight Runners - Dance Stance
The Truth - Confusion (Hits Us Every Time)
The Untouchables - Free Yourself
Makin' Time - Here Is My Number
James Taylor Quartet - One Way Street
The Clique - Wormin'
The Step - Let Me Be The One
The Prisoners - The More That I Teach You
The Times - I Helped Patrick Mcgoohan Escape
Squire - Does Stephanie Know
Small World - Love Is Dead
The Onlookers - You And I
Speedball - No Survivors
The Cigarettes - They're Back Again, Here They Come
About this release
In 1979 as a 15-year-old Eddie Piller was perfectly placed to be at the epicentre of the Mod revival. An inquisitive passion for music, a family connection to Mod royalty The Small Faces, and an attitude that saw him travelling his home city, then the country and then the world to take in the sounds that were emerging. In the years since, Piller has been a legendary figure within the music industry setting up and continuing to own the ground-breaking Acid Jazz label, signing multi-platinum artists such as Jamiroquai and The Brand New Heavies collaborating on compilations with Martin Freeman and as an award winning broadcaster even setting up his own Totally Wired Radio station. However, these two releases (double LP and 4CD box set) are the first time he has looked back on the movement that was to be his starting point.
Mod is a sixties youth movement original built on sharp clothes, American soul music and nights on the town, that has never really died. The originals added young British groups to their likes and then moved on, but their influence echoed on through the 1970s in Northern Soul clubs, and in the sixties influenced bands of the pub rock era. When punk arrived, it was supposed to sweep away the past, but instead the Sex Pistols were covering the Small Faces. The Clash brought in Mod DJ Guy Stevens to produce London's Calling, The Buzzcocks sounded closer to the Hollies than The Ramones and in The Jam's Paul Weller there was a musical and sartorial nod to the past of The Who, The Beatles and pop art arrows. Weller had spent the 1970s becoming obsessed by mod and saw punk as having a similar youthful energy to the era he had missed by being born a decade too late. For others Weller's style proved an inspiration, and as the Jam broke through in late 1978, they saw a wave of bands follow in their wake, and they themselves influenced others to form their own groups. But there were other things. In bleak late 70s Britain the glorious optimism of the 1960s looked bright and shiny, and as it was only a decade or so in the past, it was easy to pick up original records, clothes and books for pennies, and as you bought these you met other like-minded souls who did the same. For those a little too young for punk, it was a community of gigs, scooters, clothes, bands and records, and for many it developed on through.
Eddie never stopped being a mod and has a unique perspective having now lived through four decades of being intimately involved in the music that has emerged from the mod scene. In our four CD box set, and its 2LP edited version Ed guides us through some of his favourite music from the scene. He guides us through a plethora of bands whose influences include The Who, The Kinks and the Jam, to sixties soul and R&B, those with an eye on psychedelia. The records have a vitality and a certain stylish swagger to them, that marks them out as mod. Piller has written an in-depth note describing what it meant to him and has granted access to his own scrapbooks from his many years of gig-going from which pages and memorabilia are reproduced.
Eddie Piller's Mod Revival is a personal appraisal from the founder of The Modcast, on what mod explosion of the late 70s and 80s means to him. It is not only a great listen, but probably the only box set you will ever need on the subject.
This LP features 28 classic rarities and underappreciated gems pressed on Double LP on blue and red 140g vinyl.
In-depth sleeve notes reviewing the history of the scene and memorabilia from his personal scrap book, presented in a wide spine with printed inner sleeves.
Recommended titles