Easy Street (Vinyl)
Various Artists
Easy Street (Vinyl)
Various Artists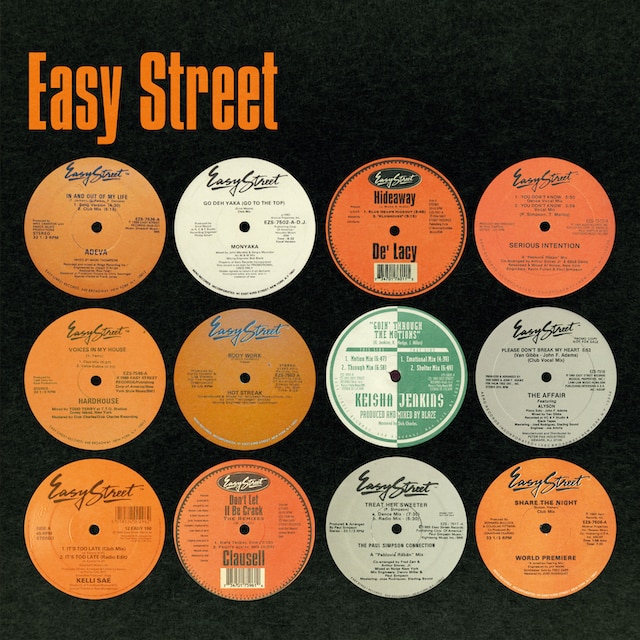 Release information
Release information
Label: Demon Records
• Format: Vinyl
• Date: 28/08/2020
Cat#: DEMREC611
• Barcode: 5014797901742
• Genre: Dance
Track Listing
Adeva - In & Out My Life (Club mix)
Hardhouse - Voices In My House (Club mix)
Kelli Sae - It's Too Late (Club mix)
Monyaka - Go Deh Yaka (Go To The Top) (Club 12" mix)
Hot Streak - Body Work (Vocal)
Clausell - Don't Let It Be Crack (RIP's Tribal Dub)
De'Lacy - Hideaway (Klub Head's Hideout)
Keisha Jenkins - Goin' Through The Motions (Motion Club 12" Mix)
Paul Simpson Connection - Treat Her Sweeter (Club mix)
Serious Intention - You Don't Know (Dance Mix)
The Affair feat. Alyson Williams - Please Don't Break My Heart
World Premiere - Share The Night (Club 12" mix)
About this release
One of the most important labels in the history of dance music, Easy Street reflected New York club-land through its most exciting years. From the Garage to The Sound Factory the clubs of the Big Apple echoed to the anthems released on Easy Street and then onto the world.
This compilation gathers up 12 of the most vital and important tracks. From 1984s Go Deh Yaka by Monyaka, through Da Lacy's house anthem 'Hideaway' via Adeva's anthemic 'In & Out My Life' all the bases are covered, whilst seminal producers Blaze, Paul Simpson and Todd Terry are amongst those who were behind the desks on these recordings.
The release is a loud cut double LP, that comes housed in a stunning sleeve and printed inner sleeves that highlight the label's distinctive label art.