Doobie Bros & Toulouse Street
The Doobie Brothers
Doobie Bros & Toulouse Street
The Doobie Brothers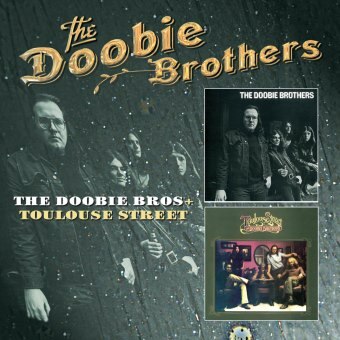 Release information
Release information
Label: Edsel
• Format:
• Date: 29/08/2011
Cat#: EDSD2104
• Barcode: 740155210434
• Genre: Pop, Rock
Track Listing
Nobody
Slippery St. Paul
Greenwood Creek
It Won't Be Right
Travelin' Man
Feelin' Down Farther
The Master
Growin' A Little Each Day
The Beehive State
Closer Every Day
Chicago
Nobody [single remix]
Daughters Of The Sea [demo]
Armadillo Death Chant
Osborne (Long Train Running)
Four Days Gone
Spiel
Lovin' My Way Back Home
Pat's Song
Bluejay
Peace In The Valley
Listen To The Music
Rockin' Down The Highway
Mamaloi
Toulouse Street
Cotton Mouth
Don't Start Me Talkin'
Jesus Is Just Alright
White Sun
Disciple
Snake Man
Listen To The Music [single remix]
Rockin' Down The Highway [single remix]
Listen To The Music [Steve Rodway extended remix]
About this release
The Doobie Brothers were one of the most commercially-successful bands of the 1970s, charting albums and singles around the world, with songs that are radio staples to this day. With principal songwriters Tom Johnston and Patrick Simmons, the band incorporated an amazing array of musical styles, from rock to R&B, via country and folk.
This coupling of their first two Warner Brothers albums (from 1971 and 1972) is the first of this Edsel series of reissue packages that all include a selection of rare additional tracks, presenting the fullest picture of this remarkable band.
The ten bonus tracks on disc one of this package includes early versions of hits along with many songs that were never re-recorded. "Toulouse Street" includes the huge hit 'Listen To The Music', as well as Steve Rodway's hit extended remix from 1994.
The 20 page booklet features all the lyrics and musician credits, photos and annotation by Alan Robinson.