Don't Stop
Status Quo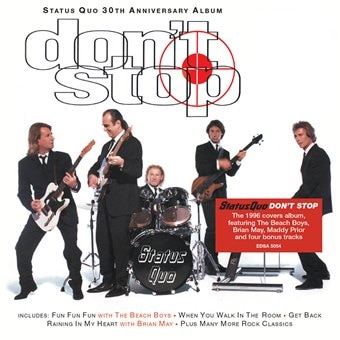 Release information
Release information
Label: Edsel
• Format: CD
• Date: 20/01/2017
Cat#: EDSA5054
• Barcode: 740155505431
• Genre: Pop, Rock
Track Listing
Fun Fun Fun
When You Walk In The Room
I Can Hear The Grass Grow
You Never Can Tell
Get Back
Safety Dance
Raining In My Heart
Don't Stop
Sorrow
Proud Mary
Lucille
Johnny And Mary
Get Out Of Denver
The Future's So Bright
All Around My Hat
Tilting At The Mill
Mortified
Temporary Friend
I'll Never Get Over You
About this release
Status Quo's 22nd studio album was issued in 1996 to celebrate the band's 30th anniversary. Featuring an eclectic selection of fifteen cover versions, all given the Quo treatment, the album reached # 2 in the UK album charts.
It features guest appearances from the Beach Boys on a hit reworking of "Fun Fun Fun", Steeleye Span's Maddy Prior on a hit version of "All Around My Hat", Queen's Brian May on "Raining In My Heart", as well as Tessa Niles on two tracks.
This expanded digipak edition features four bonus tracks (the b-sides of the singles from the album) and annotation by Classic Rock's Dave Ling.