Don't Give Up On Us: The Very Best Of David Soul
David Soul
Don't Give Up On Us: The Very Best Of David Soul
David Soul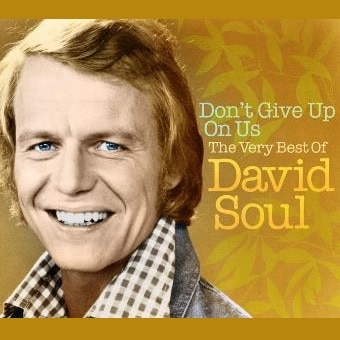 Release information
Release information
Label: Music Club Deluxe
• Format: CD
• Date: 29/11/2010
Cat#: MCDLX134
• Barcode: 5014797671348
• Genre: Easy Listening, Pop
Track Listing
Don't Give Up On Us
Silver Lady
Going In With My Eyes Open
Let's Have A Quiet Night In
It Sure Brings Out The Love In Your Eyes
Can't We Just Sit Down And Talk It Over
Seem To Miss So Much
Kristofer David
Topanga
Landlord
Bird On A Wire
Playing To An Audience Of One
I Wish I Was...
Ex Lover
1927 Kansas City
Black Bean Soup
Rider
Tomorrow Child
Nobody But A Fool or A Preacher
Tattler
Hooray For Hollywood
Surrender To Me
Beachwood Blues
Troubadour
Fool For Love
Goodbye Gatsby
You're A Woman Now
Piper
Fools For Each Other
Simple Man
Waking Up Alone
The Best Days Of My Life
How Can You Tell That You Got It
That's Enough For Me
I Drink
Mean Old Woman
Dance With Life
Tearing The Good Things Down
Come To Me
Our Lives
By The Devil I Was Tempted
The Wall
About this release
Well known for his role as Kenneth 'Hutch' Hutchinson in television programme Starsky & Hutch, David Soul also carved out a very successful singing career, utilizing another of his many talents. He is knownthroughout the world for being an actor, director, producer, singer/songwriter, concert performer and social activist.
As a musical artist, the 70s heart-throb has recorded five albums: David Soul (1976) #2, Playing To An Audience Of One (1978) #8, Band Of Friends (1980), The Best Days Of My Life (1982) and Leave A Light On (1998).
Soul has several number one international hits, Don't Give Up On Us (1976) and Silver Lady (1977) and has placed three others in the top 12 in the U.K. With his band, Soul has toured extensively in the US, the UK, the Far East and South America and has performed sold-out concerts at the Greek Theatre in L.A., Radio City Music Hall in New York, The Sports Palace in Monte Carlo, The Festival Hall in London as well as a Royal Command Performance to honour the Queen's Jubilee 1977.