Dog Man Star – 20th Anniversary Edition
Suede
Dog Man Star – 20th Anniversary Edition
Suede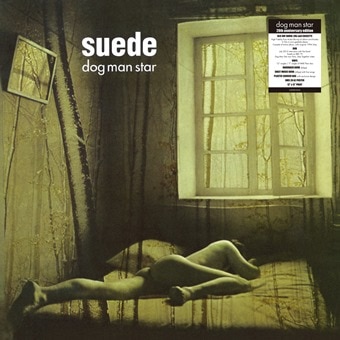 Release information
Release information
Label: Edsel
• Format: CD, Vinyl
• Date: 20/10/2014
Cat#: SUEDEBOX005
• Barcode: 5014797891371
• Genre: Alternative, Indie, Rock
Sub Genre: Britpop
Track Listing
Introducing The Band
We Are The Pigs
Heroine
The Wild Ones
Daddy's Speeding
The Power
New Generation
This Hollywood Life
The 2 Of Us
Black Or Blue
The Asphalt World
Still Life
My Dark Star
The Living Dead
Stay Together [full length version]
Killing Of A Flash Boy
Whipsnade
This World Needs A Father
Modern Boys
Eno's Introducing The Band
La Puissance (The Power)
The Living Dead (Piano Version)
We Believe in Showbiz
Still Life (Orchestral Version)
The Wild Ones (Original Unedited Version)
The Asphalt World (original unedited version)
Introducing The Band
We Are The Pigs
Heroine
The Wild Ones
Daddy's Speeding
The Power
New Generation
This Hollywood Life
The 2 Of Us
Black Or Blue
The Asphalt World
Still Life
Stay Together (Full Length Version)
My Dark Star
The Living Dead
Killing Of A Flash Boy
Whipsnade
This World Needs A Father
Modern Boys
Eno's Introducing The Band
Brett Anderson, Mat Osman and Ed Buller were interviewed on 1st July 2013
Brett Anderson and Bernard Butler were interviewed on 3rd July 2013
Top Of The Pops: Stay Together – broadcast on 10th February 1994
The O Zone – broadcast on 13th February 1994
Top Of The Pops: Stay Together – broadcast on 24th February 1994
Stay Together Directed by Jon Klein
Heroine
We Are The Pigs
The 2 Of Us
Killing Of A Flash Boy
Pantomime Horse
The Asphalt World
This Hollywood Life
The Wild Ones
Still Life
Introducing The Band
We Are The Pigs
Heroine
The Wild Ones
Daddy's Speeding
The Power
New Generation
This Hollywood Life
The 2 Of Us
Black Or Blue
The Asphalt World
Still Life
We Are The Pigs
Killing Of A Flash Boy
Whipsnade
The Wild Ones
Eno's Introducing The Band
Excerpts from Dog Man Star
About this release
Suede's greatest album – contains a High Fidelity Pure Audio Blu-ray of album and B-sides; 2 CDs in a mini gatefold sleeve; a cassette of entire album, with original 1994 inlay; a DVD with interviews with the band appearances on Top Of The Pops and The O Zone in 1994, the 'Dog Man Star' tour films, and the 'Stay Together' promo video.
Also includes 12" singles of 'We Are The Pigs' and 'The Wild Ones', plus a 7" reproduction of the NME Flexi disc in original pic sleeve.
Also contains a 60 page hardback book with notes by Brett Anderson, photos, handwritten lyrics, and ephemera; a 48 page sheet music book with five songs; plastic carrier bag with an exclusive design; an A2 poster and a 12" x 12" print.
CD1 – Dog Man Star
CD2 – The B-Sides
DVD – Interviews, BBC Appearances, Promo Video and Tour Films
BLU RAY – Dog Man Star
CASSETTE – Dog Man Star
Extra information about this release