Doctor Who: The Edge Of Time Original Videogame Soundtrack (140g Red and Purple Vinyl)
Doctor Who
Doctor Who: The Edge Of Time Original Videogame Soundtrack (140g Red and Purple Vinyl)
Doctor Who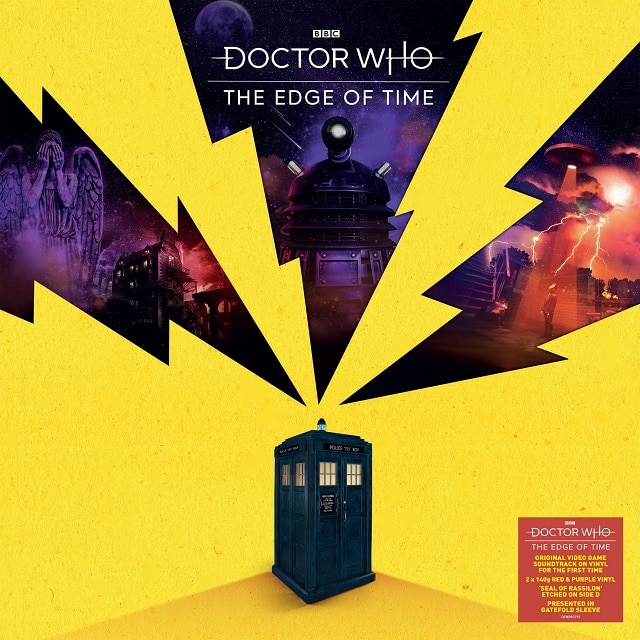 Release information
Release information
Label: Demon Records
• Format: Vinyl
• Date: 22/01/2021
Cat#: DEMREC713
• Barcode: 5014797902909
• Genre: Soundtrack
Track Listing
The Doctor Calls
Dirty Laundry
Totters Lane Treasure Hunt
Dalek Interruption
The Tardis
An Alien Forest
Finding The Crystal
Emer's Theme
No Ordinary Forest
An Elevator With a View
The Empty Spaceship
Consumed by Vanity
Saving the Spaceship
Emer-Gency Exit
London
Grayle Expectations
Guardian Angels
The Crystal and the Tardis
Mother of the Universe
Metebelis IV
The Daleks Are Here
Dalek Shootout
An Audience with the First
The Doctor's Plan
Vanquish the First
The Doctor Triumphant
Walk In Eternity
About this release
Doctor Who Edge of Time is an immersive VR video game and Demon Records are proud to release the soundtrack to this adventure.
On Vinyl for the first time, this is an original composition by Richard Wilkinson, specially created for this VR experience.
Double LP, pressed on 140g colour vinyl (Red and Purple LP) and presented in a gatefold. Side D has an etching of the 'Seal of Rassilon'
Story line: Mysterious enemy threatens to tear apart the universe and only you can stop them! Armed with the Sonic Screwdriver, players will solve mind-bending puzzles, grapple with iconic monsters and encounter new horizons in a quest to find the Doctor and defeat a powerful force that threatens to destroy the fabric of reality.
Extra information about this release