Disco Recharge: Early Riser / Too Hot For Love
Various Artists
Disco Recharge: Early Riser / Too Hot For Love
Various Artists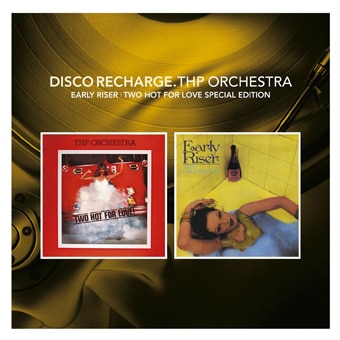 Release information
Release information
Label: Edsel
• Format: CD, Digital
• Date: 15/04/2013
Cat#: DRCCDX013
• Barcode: 5014797880139
• Genre: Disco
Track Listing
Theme from S.W.A.T
More
Sugar, Sugar
Dawn Patrol (04: 22 Mix)
Early Riser (04: 53 Mix)
Crazy, Crazy (03: 10 Mix)
Manha De Carnival
Shadow of Your Smile
Sleepwalk
Theme from S.W.A.T. (Original 7" Mix)
Early Riser (Original 12" Mix)
Early Riser (Original 7" Mix)
Manha De Carnival (7" Edit)
Fightin' on the Side of Love (feat. Wayne St. John)[Original 12" Mix]
Fightin' on the Side of Love (Instrumental 12" Mix)
Fightin' on the Side of Love (feat. Wayne St. John)[Original 7" Mix]
Fightin' on the Side of Love (Instrumental 7" Mix)
Two Hot for Love: Four Play / Excitement Pt. 1 / Excitement Pt. 2 / Climax / Resolution (I) Four Play 3.05 Ii) Excitement Pt.1 5.11 Iii) Excitement Pt.2 2.50 Iv) Climax 2.10 V) Resolution 2.35)
Early Riser (04: 55 Mix)
Manha De Carnival (Theme from Black Orpheus)
Dawn Patrol (04: 55 Mix)
Crazy, Crazy (04: 30 Mix)
Two Hot for Love (RCA 12" Mix)
Two Hot for Love (7" Mix)
Two Hot for Love (7" B Side)
Two Hot for Love (Pete Waterman 12" Edit)
Two Hot for Love (Us 7" Mix)
About this release
The THP Orchestra was the brainchild of one of Canada s most prolific disco song writing/production duos, the prolific Ian Guenther and Willi Morrison. As well as the THP Orchestra their illustrious output included projects such as Sticky Fingers, Grand Tour and Southern Exposure. But THP Orchestra (named after their production company Three Hats Productions) was their most successful collaboration and Disco Recharge is happy to bring you a special edition of the their first two albums, both of which are bursting with bonus material.
Neither album has been released on CD before, so this is the definitive package! Early Riser was issued in 1976 on the Canadian RCA label. The album was released to cash in on the success of the single, Theme From S.W.A.T. and comprises mainly of covers of tracks Guenther and Morrison traditionally loved including the 60 s smash hit More and the bubblegum hit Sugar Sugar amongst others whilst also featuring two Morrison penned tracks Crazy Crazy and Dawn Patrol . Definitely in a disco lounge style it serves as a great introduction to their talents and paved the way for their eventual breakout album, Two Hot For Love which comprises disc 2 of this collection. Disc one features not only the complete original album but also various edits of the main tracks as well as the very first THP release Fightin On The Side Of Love (with vocals from Wayne St John).
Two Hot For Love is a genuine North American Disco classic a 16 minute marathon epic that was a huge club hit around the world. As often happened the single became so big the record company demanded an album. With no back up tracks ready they decided to reuse some of the cuts from the Early Riser album (albeit different versions) which had only been released in Canada. This special edition includes rare bonus versions of the title track including an edit made by Pete Waterman for the UK 12 release proof positive that the movers and shakers were listening to the THP Orchestra!