Decade 1967 – 1976
Lulu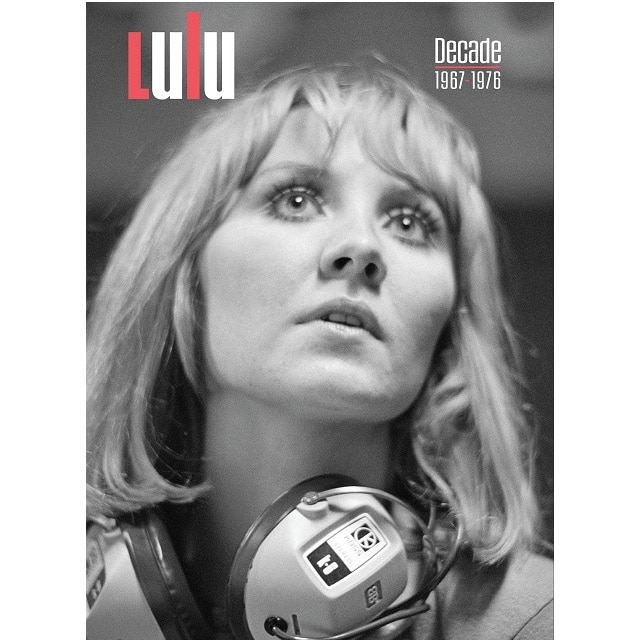 Release information
Release information
Label: Edsel
• Format: CD, Digital
• Date: 16/11/2018
Cat#: LULUBOX01
• Barcode: 5014797897748
• Genre: Pop, R&B and Soul, Rock
Track Listing
To Sir With Love
Morning Dew
You And I
Rattler
Day Tripper
Love Loves To Love Love
To Love Somebody
The Boat That I Row
Let's Pretend
Take Me In Your Arms And Love Me
Best Of Both Worlds
Dreary Days And Nights
You And I [mono single version]
Me, The Peaceful Heart
Lookout
Boy
Sad Memories
I'm A Tiger
Without Him
This Time (Bistro) [from the film "Hot Millions"]
I Keep Forgettin'
Show Me
The Mighty Quinn
My Ain Folk
Where Did You Come From
Gimme Some Lovin'
I Started A Joke
Why Did I Choose You?
The Boy Next Door
A House Is Not A Home
Cry Like A Baby
Are You Ready For Love
March!
Come September
I Can't Go On Living Without You
Boom Bang-A-Bang
Bet Yer
Boom Bang-A-Bang [French version]
Boom Bang-A-Bang [Italian version]
Boom Bang-A-Bang [German version]
Boom Bang-A-Bang [Spanish version]
Marley Purt Drive
In The Morning
People In Love
After All (I Live My Life)
Feelin' Alright
Dirty Old Man
Oh Me Oh My (I'm A Fool For You Baby)
Is That You Love
Mr. Bojangles
Where's Eddie
Sweep Around Your Own Back Door
Good Day Sunshine
After The Feeling Is Gone
I Don't Care Anymore
(Don't Go) Please Stay
Melody Fair
Take Good Care Of Yourself
Vine Street
Move To My Rhythm
To The Other Woman (I'm The Other Woman)
Hum A Song (From Your Heart)
Sweet Memories
Saved
Bury Me Down By The River
Got To Believe In Love
Jokers Wild
Come Down In Time
Back Home
Things Are Getting Better
Love Song
Goodbye My Love, Goodbye
Everybody's Got To Clap
It Takes A Real Man (To Bring Out The Woman In Me)
You Ain't Wrong You Just Ain't Right
Even If I Could Change
Hum A Song (From Your Heart) [Session Version]
I Don't Care Anymore [Early Mix]
Got To Believe In Love [Early Version]
Povera Me (Oh Me Oh My) [Italian version]
Warum Tust Du Mir Weh? (Why Do You Hurt Me?)
Traurig, Aber Wahr (Sad But True)
Ich Brauche Deine Liebe (I Need Your Love)
Wach' Ich Oder Traum' Ich (Wake Me Or Dream Me)
Make Believe World
Groovin'
Easy Evil
I Wish
A Boy Like You
Hold On To What You've Got
Could It Be Forever?
Funny How Time Slips Away
Do Right Woman, Do Right Man
Help Me Help You
Heaven And Earth And The Stars
Boy Meets Girl
Mama's Little Corner Of The World
The Man With The Golden Gun [Main Title]
Baby I Don't Care
Take Your Mama For A Ride [Pt. 1]
Honey You Can't Take It Back
The Man Who Sold The World
Watch That Man
Old Fashioned Girl
Take Your Mama For A Ride [Pt. 2]
About this release
Throughout her career, Lulu has worked with some of the best in the business. In the space of ten exciting years, straddling the 60s and the 70s, her recordings were produced by the stellar list of Mickie Most, Arif Mardin, Jerry Wexler, Tom Dowd, Giorgio Moroder, Wes Farrell and David Bowie, with arrangements by the likes of John Paul Jones, Johnny Harris and Peter Knight.
And the songs included early gems by the Bee Gees, Harry Nilsson, Neil Diamond, Randy Newman, and Elton John & Bernie Taupin, and classics from David Bowie, Bob Dylan, Lennon & McCartney and many more. The hits featured include "To Sir With Love" (a US # 1), "The Boat That I Row", "Love Loves To Love Love", "I'm A Tiger" (written by Ronnie Scott and Marty Wilde), "Boom Bang-A-Bang", "Oh Me Oh My (I'm A Fool For You Baby)", "The Man With The Golden Gun" (John Barry's theme for the Bond film), "The Man Who Sold The World" and "Watch That Man", and "Take Your Mama For A Ride".
This annotated 5 CD media book is also extensively illustrated with many archive photos.
CD1 – LOVE LOVES TO LOVE LULU
CD2 – LULU'S ALBUM
CD3 – NEW ROUTES
CD4 – ATCO RECORDINGS – THE UNRELEASED THIRD ALBUM
CD5 – LULU
Extra information about this release
Recommended titles