Dead Or Alive: Invincible (9CD Box Set)
Dead Or Alive
Dead Or Alive: Invincible (9CD Box Set)
Dead Or Alive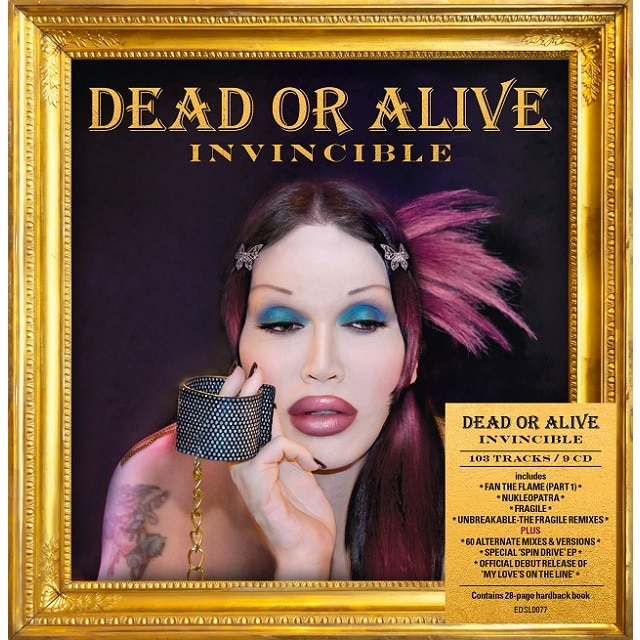 Release information
Release information
Label: Edsel
• Format: CD
• Date: 09/10/2020
Cat#: EDSL0077
• Barcode: 0740155727734
• Genre: Dance, Pop
Track Listing
Your Sweetness (Is Your Weakness)
Unhappy Birthday
Gone 2 Long
Total Stranger
Lucky Day
What Have U Done (2 Make Me Change)
And Then I Met U
Blue Christmas
My Love's On The Line
Unhappy Birthday [Ninja Billy Mix]
Beats 2 Long
Your Sweetness (Is Your Weakness) [Instrumental]
Total Stranger [Remix]
MEDLEY: Turn Around And Count 2 Ten/Blue Christmas /Your Sweetness [Accapella] Live In Nagoya, Japan 29 November 1990
Unhappy Birthday [Japanese 7" Mix]
Unhappy Birthday [Radio Edit]
Unhappy Birthday [Rockin In Instrumental
Nukleopatra
Unhappy Birthday
Rebel Rebel
Sleep With You
The Right Stuff
I'm A Star
International Thing
Picture This
Spend The Night Together
Gone Too Long
Getting It On
Sex Drive
Nukleopatra
Rebel Rebel [12" Club Remix]
Sleep With You [Instrumental]
I'm A Star [7" Mix]
International Thing [7" Master]
Spend The Night Together [12" Master]
Getting It On [Instrumental]
Rebel Rebel [Safe Hands Remix]
International Thing [1st Degree Burns 7" Remix]
Nukleopatra [Instrumental]
International Thing [NU-NRG 7" Remix]
Rebel Rebel [12" NRG Extended Mix]
International Thing [Nu-NRG 12" Remix]
Spend The Night Together
Hit And Run Lover
Turn Around And Count To Ten [2000]
Something In My House [2000]
Even Better Than The Real Thing [2000]
I Paralyze
Isn't It A Pity
You Spin Me Round (Like A Record) [2000]
Just What I Always Wanted
My Heart Goes Bang [2000]
Lover Come Back To Me [2000]
I Promised Myself
Blue Christmas [2000]
Hit And Run Lover [Hit Remix]
Why's It So Hard
Even Better Than The Real Thing
Pop Life
I Paralyze [Instrumental]
Hit And Run Lover [Instrumental]
Hit And Run Lover [Acapella]
Never Marry An Icon - Pete Burns Vs The Dirty Disco
The Art - Pete Burns Vs The Dirty Disco
Never Marry An Icon [Instrumental] - Pete Burns Vs The Dirty Disco
The Art [Instrumental] - Pete Burns Vs The Dirty Disco
Never Marry An Icon [Acapella] - Pete Burns Vs The Dirty Disco
The Art [Acapella] - Pete Burns Vs The Dirty Disco
Turn Around And Count 2 Ten [Y&Co. "B" Mix]
You Spin Me Round (Like A Record) [Zi Zone Mix]
My Heart Goes Bang [Love Machine Remix]
Something In My House [Deadend Of Eurasia Mix]
Hit And Run Lover [Ventura Mix]
Isn't It A Pity [Bustard Remix)]
I Paralyze [B4 Za Beat Remix]
Blue Christmas [P.K.G. Remix]
Lover Come Back To Me [Earthquake Mix]
Just What I Always Wanted [R.M. Hyper Techno Mix]
You Spin Me Round (Like A Record) [Sugar Pumpers Radio Mix]
Sex Drive [Single Cut] - Glam featuring Pete Burns
You Spin Me Round (Like A Record) [400 Hz - Kleopatra Remix]
Sex Drive [Scream Driven Radio Edit]
You Spin Me Round (Like A Record) [Blue Sky Mix]
Sex Drive [Album Radio Edit] / [Original Mix]
You Spin Me Round (Like A Record) [The Vicious Mix]
Sex Drive [Peewee's Radio Mix]
You Spin Me Round (Like A Record) [Sugar Pumpers Extended Mix]
Sex Drive [Sugar Pumpers Extended Mix]
You Spin Me Round (Like A Record) [Jail House Club Remix]
Sex Drive [Sexual Hard Mix] - Glam featuring Pete Burns
You Spin Me Round (Like A Record) [The Yummi 4am Mix]
Sex Drive [Peewee's Remix]
You Spin Me Round (Like A Record) [Edouard's Mix]
You Spin Me Round (Like A Record) [400 Hz - Marc Antoine Remix]
Sex Drive [Scream Driven Remix]
You Spin Me Round (Like A Record) [Kalk's Underground Mix]
Sex Drive [Peewee's Extended Remix]
You Spin Me Round (Like A Record) [Sugar Pumpers Pumpin' Mix]
Sex Drive [7" Instrumental]
You Spin Me Round (Like A Record) [D-Bop Club Mix]
Sex Drive [12" Instrumental]
You Spin Me Round (Like A Record) [Mark Moore & Mr Motion Remix]
You Spin Me Round (Like A Record) [Punx Soundcheck Vs Princess Julia]
About this release
"INVINCIBLE" – that's what Pete and Steve believed they were…and they were right.
Their legacy lives on today, with the recent colour vinyl LP reissues delighting longstanding fans, as well as being a voyage of discovery for newer ones. With future release plans made prior to both of their separate and untimely passing, to focus on the post-1990 period, this 9CD box set includes 103 tracks across five individual album sets, with label copy and a selection of photographs in a 28-page hardback book. Featuring 'FAN THE FLAME (PART 1)', 'NUKLEOPATRA', 'FRAGILE' and 'UNBREAKABLE – THE FRAGILE REMIXES', "INVINCIBLE" also includes 60 additional mixes, with many acapella and instrumental versions of previously released tracks and their recordings for the U2, Madonna and Prince tribute albums. The fifth 'album' in the box set is a 2-disc set 'SPIN DRIVE', which includes a combination of 25 tracks and mixes of 'You Spin Me Round (Like A Record)' and 'Sex Drive'.
Two of Pete's versions with the Italian group Glam are also featured. Although the track was first performed live in Japan in 1990, "INVINCIBLE" gives the debut official release to 'My Love's On The Line', the master tape for which was discovered last year in Steve Coy's archive.
The cover photography is courtesy of Gozra Lozano, which remained unpublished until very recently. DEAD OR ALIVE remain relevant, with their brand of melodic Dance/Electronica.