Dead Elvis
Death In Vegas
Dead Elvis
Death In Vegas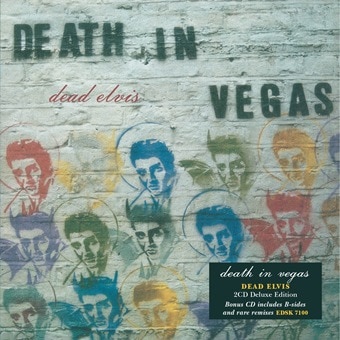 Release information
Release information
Label: Edsel
• Format:
• Date: 08/07/2016
Cat#: EDSK7100
• Barcode: 740155710033
• Genre: Rock
Track Listing
All That Glitters
Opium Shuffle
GBH
Twist And Crawl
Dirt
Rocco
Rekkit
I Spy
Amber
Rematerialised
68 Balcony
Sly
City Rub
Dr. Clean
Claiming Marilyn
Rocco (Dave Clarke Mix)
GBH (The Original King Stuffing)
Dirt (Slayer Mix)
Rematerialised Dub
GBH Dub
Opium Shuffle (Monkey Mafia Mix)
Twist And Crawl (Dub)
Rekkit (Effective Machine)
Rekkit (Vega Sintro)
About this release
'Dead Elvis' is the debut album by Death In Vegas, originally released in 1997 in a period at the height of British dance culture.
The band has always been the brainchild of Richard Fearless and his partner for this album was Simon Hellier. Together they fashioned a remarkable, disparate and experimental album that defied any categorisation, encompassing dance, dub, electronic, big beat, jazz and so much more.
This 2CD set brings together on a bonus disc all the fantastic b-sides and mixes that were part of what Death In Vegas were all about. Liner notes by renowned music journalist Andrew Perry include interview with Richard Fearless.