David Soul – Gold
David Soul
David Soul – Gold
David Soul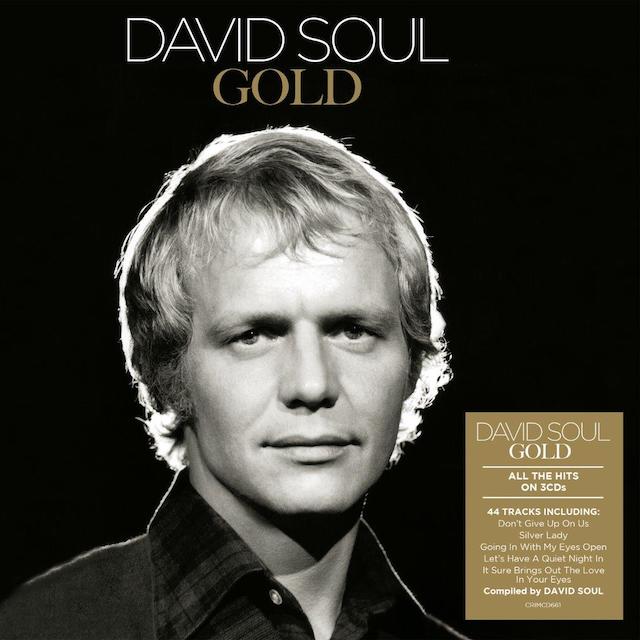 Release information
Release information
Label: Crimson Productions
• Format: CD
• Date: 06/03/2020
Cat#: CRIMCD649
• Barcode: 654378064920
• Genre: Pop
Track Listing
Troubadour
(The) Wall
1927 Kansas City
Topanga
Rider
Black Bean Soup
Don't Give Up On Us
Piper
Mary's Fancy
I Wish I Was…
Fools For Each Other
Nobody But A Fool Or A Preacher
Dancin' Jones
Bird On A Wire
That's Enough for Me
Simple Man & Waking Up Alone
To A Heart That's True
It Sure Brings Out The Love In Your Eyes
I Can't Afford That Feeling Anymore
Jazzman
Silver Lady
Money
How Can You Tell You Got It (If You Don't Ever Give It Away)
Tattler
Beachwood Blues
Surrender To Me
Maybe We Can Work It Out
Going In With My Eyes Open
Distant Shores
Acapella (from 'Who' by Charles Aznavour)
Tomorrow Child
Carlito
Dreamers
Let's Have A Quiet Night In
Good-bye Gatsby
Mean Old Woman
Can't Change My Heart
I Drink
You're A Woman Now
The Meaning Of Our Lives
Tearing the Good Things Down
Don't Give Up On Us (New Version)
The Dutchman
Simple Life
About this release
Crimson Gold presents David Soul 'Gold', the only David Soul compilation you'll ever need and the perfect gift for Mother's Day.
David Soul first shot to international fame as Hutch on the hit 1970s US crime-fighting television show Starsky & Hutch. But he actually started his career as a folksinger and after the phenomenal success of the television show David began an equally successful career as a singer and songwriter
From 1977 over a period of five years, David Soul put out four albums with hits including 'Don't Give up on Us, Baby' and 'Silver Lady' both singles reached number 1 in the UK charts. This release also includes David's later recordings.
This definitive 3CD set features 44 tracks spanning Soul's career achieving a remarkable 5 top 15 UK singles including 'Going In With My Eyes Open' (UK 2), 'Let's Have a Quiet Night In' (UK 8), 'It Sure Brings Out The Love In Your Eyes' (UK 12), plus this two number one singles 'Don't Give up on Us, Baby' and 'Silver Lady'
The tracklisting has been carefully curated by David himself • A cut down gold coloured vinyl is also available
Extra information about this release