Cut The Cake + Soul Searching + Benny & Us
Average White Band
Cut The Cake + Soul Searching + Benny & Us
Average White Band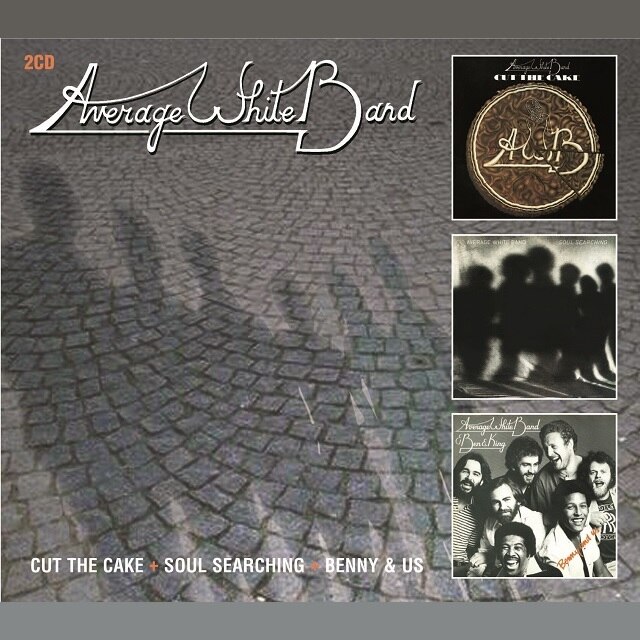 Release information
Release information
Label: Edsel
• Format: CD
• Date: 06/04/2009
Cat#: EDSD2031
• Barcode: 740155203139
• Genre: R&B and Soul
Track Listing
Cut The Cake
School Boy Crush
It's A Mystery
Groovin' The Night Away
If I Ever Lose This Heaven
Why
High Flyin' Woman
Cloudy
How Sweet Can You Get?
When They Bring Down The Curtain
Overture
Love Your Life
I'm The One
A Love Of Your Own
Queen Of My Soul
Soul Searching
Goin' Home
Everybody's Darling
Would You Stay
Sunny Days (Make Me Think Of You)
Digging Deeper (Finale)
Get It Up For Love
Fool For You Anyway
A Star In The Ghetto
The Message
What Is Soul
Someday We'll All Be Free
Imagine
Keepin' It To Myself
About this release
Tragedy struck AWB when drummer Robie McIntosh died at a party held to celebrate the succes of the "White Album" in late 1974. The band decided to honour Robbie's memory by continuing: they recruited Steve Ferrone and set about recording "Cut The Cake" (which features some songs already co-written with McIntosh).
Released in June 1975, it went Top Ten in both the US and UK, reaching #4 in the US (and going Gold). It features the AWB classics "Cut The Cake", "School Boy Crush", "Cloudy" and "If I Ever Lose This Heaven", all hit singles and all still live favourites in AWB's live shows. "Soul Searching" (July 1976) consolidated this success, going platinum in the US and featuring more classics in "A Love Of Your Own", "I'm The One" and Hamish Stuart's love song to soul music "Queen Of My Soul".
In 1977, producer Arif Mardin took the band to Miami to record a special album of covers with soul legend Ben E. King, orginal lead singer of The Drifters ("Save The Last Dance For Me"), and best known for his own hits "Stand By Me" and "Spanish Harlem". Amongst the many highlights on "Benny & Us" is the unique reading of John Lennon's "Imagine".
Recommended titles