Creation Theory (Vinyl)
The Creation
Creation Theory (Vinyl)
The Creation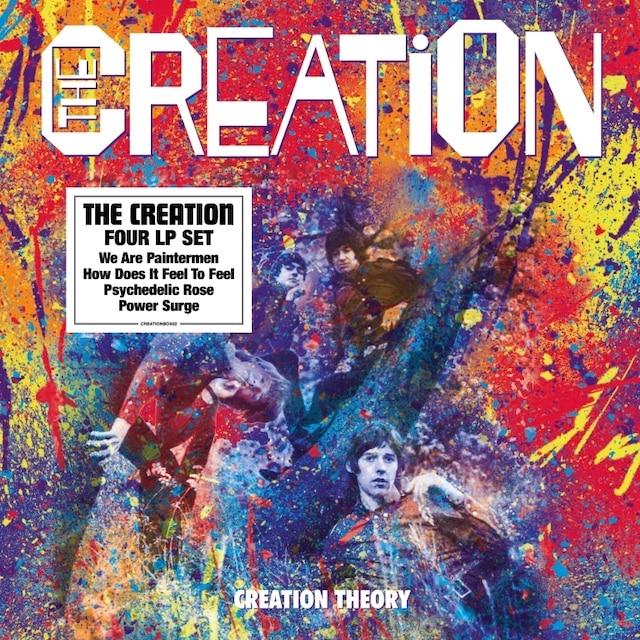 Release information
Release information
Label: Demon Records
• Format: Vinyl
• Date: 01/06/2018
Cat#: CREATIONBOX02
• Barcode: 5014797897090
• Genre: Rock
Track Listing
Cool Jerk
Making Time
Through My Eyes
Like A Rolling Stone
Can I Join Your Band?
Tom Tom
Try And Stop Me*
If I Stay Too Long
Biff Bang Pow
Nightmares
Hey Joe
Painter Man
How Does It Feel To Feel [UK version]
Sylvette
Life Is Just Beginning
How Does It Feel To Feel [US version]
I Am The Walker*
Ostrich Man*
Sweet Helen*
Midway Down
The Girls Are Naked*
Bony Moronie*
Mercy, Mercy, Mercy*
For All That I Am
Uncle Bert*
Lay The Ghost
Psychedelic Rose
Radio Beautiful
United
Doing It My Way
Making Time [new version]
Far From Paradise
White Knight
Spirit Called Love
Creation
Power Surge
Someone's Gonna Bleed
Shock Horror
That's How I Found Love
That's How I Found Love
Nobody Wants To Know
City Life
English Language
Free Men Live Forever
Ghost Division
O+N
About this release
"Eddie Phillips is a combination of Jimmy Page and Pete Townshend." – Shel Talmy (producer of The Who, The Kinks, and The Creation)
Alan McGee was such a big fan of The Creation that he named his record label after the band, and named his own band after one of their songs – Biff Bang Pow. The Creation was formed in 1966 from beat combo The Mark Four, and was quickly signed to a production deal with Shel Talmy, The Who's producer. The first release was the urgent "Making Time", which featured guitarist Eddie Phillips playing his guitar with a violin bow, two years before Jimmy Page started doing so. Whilst very popular in Germany, UK success largely eluded the band, and after a number of noncharting singles and line-up changes (including Ron Wood), the band broke up in 1968 without ever having released an album in the UK. Bizarrely, Boney M had a huge hit in 1979 with the band's composition "Painter Man".
Phillips and lead vocalist Kenny Pickett recorded an album in 1987 that remained unreleased until 2004, and in 1995, following reunion concerts at Harlesden's Mean Fiddler, Alan McGee and Joe Foster managed to persuade the original line-up to record a new album, for release on Creation Records.
This 4 LP box set has been designed by Phil Smee and the album sleeves feature photos from his collection. The four LPs include all of The Creation's legendary recordings for Shel Talmy (the 2016 stereo mixes appear on LP for the first time), "We Are Paintermen" replicating the 1966 German LP, the only Creation album released anywhere in the 60s. "How Does It Feel To Feel "rounds up the remainder of the 60s recordings, and the 1987 album "Psychedelic Rose" and the 1996 Creation Records album "Power Surge" complete the set.
*indicates mono
PLEASE NOTE THAT THE AMAZON EXCLUSIVE STICKER IS FOR ILLUSTRATIVE PURPOSES ONLY AND DOES NOT APPEAR ON THE FINISHED PRODUCT