Crash Course – Live (2 x 10″ Coloured Vinyl)
UK Subs
Crash Course – Live (2 x 10″ Coloured Vinyl)
UK Subs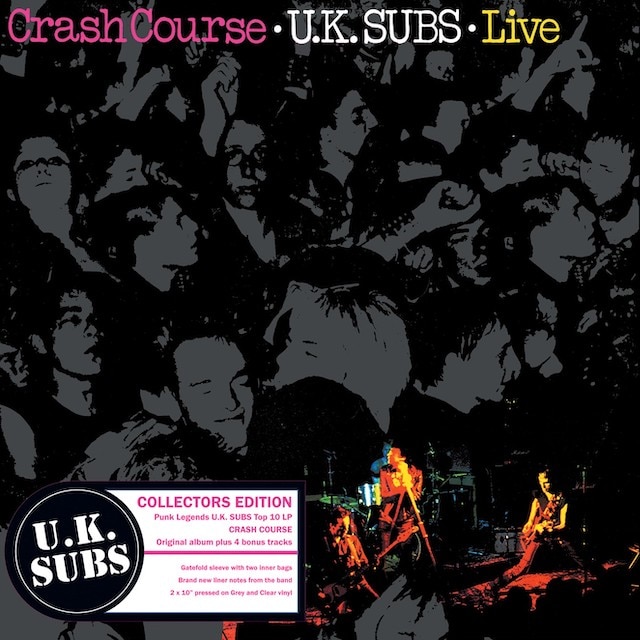 Release information
Release information
Label: Demon Records
• Format: Vinyl
• Date: 25/10/2019
Cat#: UKSUBSDEM003
• Barcode: 5014797899636
• Genre: Rock
Sub Genre: Punk
Track Listing
C.I.D.
I Couldn't Be You
I Live In A Car
Tomorrows Girls
Left For Dead
Kicks
Rat Race
New York State Police
Warhead
Public Servant
Telephone Numbers
Organised Crime
Rockers
Brand New Age
Dirty Girls
The Same Thing
Crash Course
Teenage
Killer
Emotional Blackmail
I.O.D.
Lady Esquire
Blues
Young Criminals
About this release
Following on from the 40th Anniversary Editions of the UK Subs debut LP "Another Kind Of Blues" and "Brand New Age", Demon Records present follow up "Crash Course – Live". Originally released in 1980, this was the bands biggest selling album charting at number 8 in the UK albums chart
Now re-issued as deluxe double 10" vinyl release, one pressed on clear 10" vinyl, the other on grey 10" vinyl, complete with individual inner bags featuring memorabilia from the era.
The gatefold sleeve contains new notes from each of the original band members on the recording of this seminal album at London's legendary Rainbow Theatre, the last ever gig held at this historic venue.
Initial copies of the original vinyl album came with a free 4 track 12" single, with these tracks added to Side D to give 24 essential live Subs classics.