Countryfile – The Album
Various Artists
Countryfile – The Album
Various Artists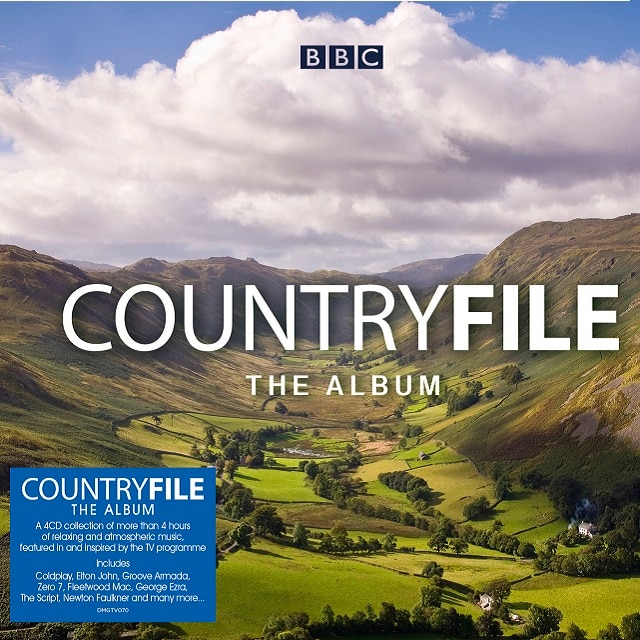 Release information
Release information
Label: DMG TV
• Format: CD, Digital
• Date: 03/08/2018
Cat#: DMGTV070
• Barcode: 5014797760707
• Genre: Ambient, Pop
Track Listing
Sounds Of Nature [excerpt]
Countryfile Theme - David Lowe
Peer Gynt Suite No.1, Op.46 Morning - London Symphony Orchestra
Albatross - Fleetwood Mac
Green Hills - Oliver Ledbury
Slip Into Something More Comfortable - Kinobe
Heartbeats - Jose Gonzalez
Dream Catch Me - Newton Faulkner
Adiemus - (1999 New Version) Adiemus
Drew - Goldfrapp
At The River - Groove Armada
Since I Left You - The Avalanches
I Just Wanna Love You - The Shires
Song For Guy - Elton John
One Day - Kodaline
Geraldine - Glasvegas
Model - The Balanescu Quartet
Glassworks: VI. Closing - Philip Glass/ Philip Glass Ensemble
Sounds Of Nature
Sounds Of Nature [excerpt]
Blue Planet - 4 Terry Devine-King
Concerto No.1, E Major, RV269, Spring_ I Allegro - London Philharmonic Orchestra
Daydream In Blue - I Monster
Sadeness – Part 1 - Enigma
Futures - Zero 7/Jose Gonzalez
Closing In - Imogen Heap
Falling - Julee Cruise
Enigma Variations, Op. 36: IX. Nimrod - Royal Philharmonic Orchestra | Sir Thomas Beecham
Atlas Hands - Benjamin Francis Leftwich
Moorland - Bob Bradley and Kathryn Tickell
Fly Away With Me - Tom Walker
Barcelona - George Ezra
Cherished Desire Igor Dvorkin, Duncan Pittock and Ellie Kidd
Word By Word - Bombay Bicycle Club
Never Seen Anything 'Quite Like You' - The Script
Spring
Music For A Found Harmonium - Penguin Café Orchestra
Flower Duet. (from 'Lakme') - Mado Robin | Agnes Disney | The Paris Opera
The Wings (from 'Brokeback Mountain') - Gustavo Santaolalla
Sounds Of Nature
Sounds Of Nature [excerpt]
Charlie Brown - Coldplay
Colourful Kites In The Sky
Steep Hills of Vicodin Tears - A Winged Victory for the Sullen
Richter: On The Nature of Daylight - Max Richter
Einaudi: Calmo - Ludovico Einaudi
Yeha - Noha (Wishes Of Happiness And Prosperity)
Aria On Air - Malcom McLaren & Yanni
Destiny - Zero 7 feat. Sia & Sophie Barker
Feathers - Poppy Ackroyd
Cliff Top View
Till Next Market Day - Damien O'Kane
Countryfile Spring Diaries Theme - David Lowe
Master Pretender - First Aid Kit
I Sleep Alone - Richard Hawley
Sometimes - Ferris & Sylvester
Sunshine Philosophy (Pete Lawrence Mix) - Future Loop Foundation
The Sun Rising - The Beloved
Beauty Of Britain - Neil Cartwright
Sounds Of Nature
Sounds Of Nature [excerpt]
Intro - Dan Arborise
Still Waters - Stuart Roslyn
Moments In Love - Art Of Noise
Drifting Away - Faithless
Eple - Röyksopp
Underwater Love - Smoke City
Mike Oldfield's Single - Theme From Tubular Bells
Carmina Burana, Fortuna Imperatrix Mundi: I. O Fortuna - Mozarteum Orchestra | Ernst Hinreiner | Gerda Hartmann | Richard Brünner | Rudolf Knoll
Barber's Adagio For Strings - William Orbit
Acoustic Plains
Child Song - The Cinematic Orchestra
Goodbye - Apparat
Another Chance [Afterlife Mix] - Roger Sanchez
Four Hands And A Stool
Home Again - Michael Kiwanuka
The Lark Ascending: II. Instrumental Solo [Excerpt] - Consort Of London
A Good Country Life - Neil Cartwright
Sounds Of Nature
About this release
Countryfile – The Album is the first music collection from the BBC's long running show, featuring 4CDs carefully curated to feature songs that have either been played on the show in the last three decades or been inspired by it. The show is celebrating its 30th anniversary this year, and has grown into a defining part of British culture, reflected in the album's vibrant and eclectic track list. Whatever mood you're in and whatever landscape or wildlife you're admiring, Countryfile – The Album has something
to set the scene.
Countryfile – The Album features over 4 hours of uplifting and relaxing music from and inspired by the show including Coldplay, George Ezra, First Aid Kit, Elton John, Fleetwood Mac, Mike Oldfield, The Shires, Jose Gonzalez, William Orbit, Groove Armada, The Script, Newton Faulkner and Richard Hawley. It also features some inspiring classical selections from the likes of Ludovico Einaudi, Vivaldi, Vaughan Williams, Elgar and Orff, plus original music from Countryfile theme composers, David Lowe and Neil
Cartwright.
Press play, sit back, and relax.
Extra information about this release