The Best Of Under The Covers
Matthew Sweet & Susanna Hoffs
The Best Of Under The Covers
Matthew Sweet & Susanna Hoffs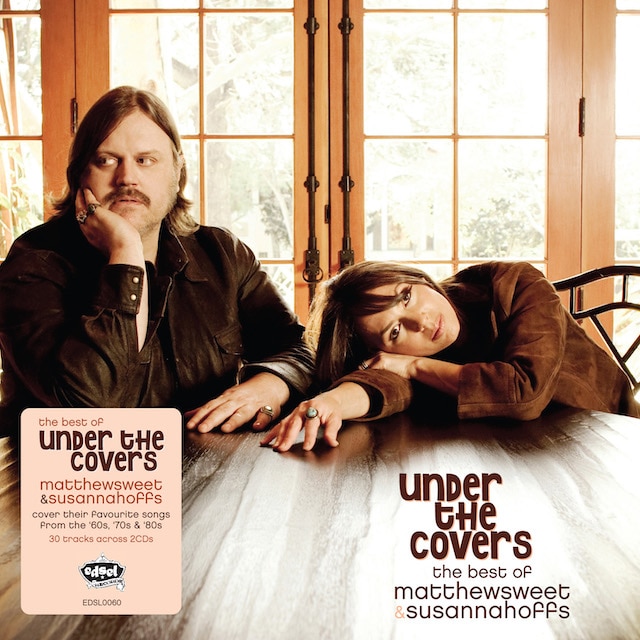 Release information
Release information
Label: Edsel
• Format: CD
• Date: 27/03/2020
Cat#: EDSL0060
• Barcode: 740155726034
• Genre: Indie, Rock
Track Listing
And Your Bird Can Sing [The Beatles]
Second Hand News [Fleetwood Mac]
You're My Favourite Waste Of Time [Marshall Crenshaw]
They Don't Know [Kirsty MacColl]
You're So Vain [Carly Simon]
Sunday Morning [The Velvet Underground & Nico]
Maggie May [Rod Stewart]
On The Way Home [Buffalo Springfield]
(What's So Funny 'Bout) Peace, Love and Understanding? [Brinsley Schwarz]
Dreaming [Blondie]
Train In Vain [The Clash]
Sorry [The Easybeats]
Different Drum [Stone Poneys featuring Linda Ronstadt]
Trouble [Lindsey Buckingham]
Killing Moon [Echo & The Bunnymen]
I Would Die 4 U [Prince]
Beware Of Darkness [George Harrison]
Cinnamon Girl [Neil Young & Crazy Horse]
Sitting Still [R.E.M.]
It's All Over Now, Baby Blue [Bob Dylan]
Melissa [The Allman Brothers Band]
Bell Bottom Blues [Derek & The Dominos]
Care Of Cell 44 [The Zombies]
Gimme Some Truth [John Lennon]
I Wanna Be Sedated [The Ramones]
I Can See For Miles [The Who]
How Soon Is Now? [The Smiths]
Marquee Moon [Television]
Free Fallin' [Tom Petty]
All The Young Dudes [Mott The Hoople]
About this release
Between 2006 and 2013, alternative rock artist Matthew Sweet and Bangles singer/guitarist Susanna Hoffs released three collaborative albums covering their favourite songs from the '60s, '70s and '80s.
This new compilation brings together 30 of the very best tracks from across the Under The Covers series.
"For me, making these recordings just felt like two music nerds getting together and having a really good time playing and recording songs that we worship," says Hoffs, "They're kind of a love letter from us as fans. They're like the equivalent of an old school mixtape that you would give someone you're crazy about. There's something incredibly romantic about it."
Highlights include the rare promo trackd 'On My Way Home' and 'Sorry'.
Includes guest appearances by Lindsey Buckingham ('Second Hand News'), Dhani Harrison ('Beware Of Darkness') and Van Dyke Parks ('It's All Over Now, Baby Blue').
2 CDs housed in a digipack. Also available as a 28 track vinyl edition pressed on two heavyweight 180g transparent golden vinyl.
Extra information about this release