Completely Under The Covers (Vinyl)
Matthew Sweet & Susanna Hoffs
Completely Under The Covers (Vinyl)
Matthew Sweet & Susanna Hoffs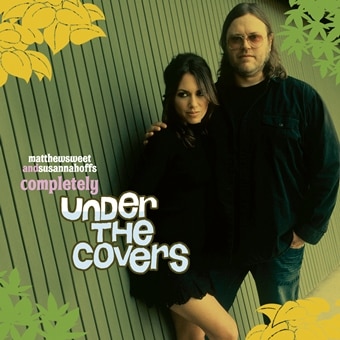 Release information
Release information
Label: Demon Records
• Format: Vinyl, Digital
• Date: 23/10/2015
Cat#: DEMRECBOX07
• Barcode: 5014797893917
• Genre: Rock
Track Listing
I See The Rain [Marmalade]
And Your Bird Can Sing [The Beatles]
It's All Over Now, Baby Blue [Bob Dylan]
Who Knows Where The Time Goes? [Fairport Convention]
Cinnamon Girl [Neil Young and Crazy Horse]
Alone Again Or [Love]
The Warmth Of The Sun [The Beach Boys]
Different Drum [Stone Poneys featuring Linda Ronstadt]
The Kids Are Alright [The Who]
Sunday Morning [The Velvet Underground]
Everybody Knows This Is Nowhere [Neil Young and Crazy Horse]
Care Of Cell 44 [The Zombies]
Monday, Monday [The Mamas & the Papas]
She May Call You Up Tonight [The Left Banke]
Run To Me [Bee Gees]
Village Green Preservation Society [The Kinks]
I Can See For Miles [The Who]
Sugar Magnolia [Grateful Dead]
Go All The Way [Raspberries]
Second Hand News [Fleetwood Mac]
All The Young Dudes [Mott The Hoople]
You Can Close Your Eyes [James Taylor]
Marquee Moon [Television]
Here Comes My Girl [Tom Petty and the Heartbreakers]
I've Seen All Good People: Your Move/All Good People [Yes]
Hello It's Me [Todd Rundgren]
Willin' [Little Feat]
Back Of A Car [Big Star]
Couldn't I Just Tell You [Todd Rundgren] Side
Gimme Some Truth [John Lennon]
Maggie May [Rod Stewart]
Beware Of Darkness [George Harrison]
Dreaming [Blondie]
Bell Bottom Blues [Derek and the Dominos]
You're So Vain [Carly Simon]
I Wanna Be Sedated [Ramones]
Baby Blue [Badfinger]
You Say You Don't Love Me [Buzzcocks]
(What's So Funny 'Bout) Peace, Love And Understanding [Brinsley Schwarz]
Everything I Own [Bread]
Melissa [Allman Brothers Band]
Killer Queen [Queen]
A Song For You [Gram Parsons]
Sitting Still [R.E.M.]
Girls Talk [Dave Edmunds]
Big Brown Eyes [The dB's]
Kid [Pretenders]
Free Fallin' [Tom Petty]
Save It For Later [The Beat]
They Don't Know [Kirsty MacColl]
The Bulrushes [The Bongos]
Our Lips Are Sealed [The Go-Go's]
How Soon Is Now [The Smiths]
More Than This [Roxy Music]
Towers Of London [XTC]
Killing Moon [Echo and The Bunnymen]
Trouble [Lindsey Buckingham]
Train In Vain [The Clash]
You're My Favorite Waste of Time [Marshall Crenshaw]
I Would Die 4 U [Prince]
About this release
From the new liner note by Paul Myers: "For me," says Susanna Hoffs, "making these recordings just felt like two music nerds getting together and having a really good time playing and recording songs that we worship." Hoffs, a founding member of The Bangles, is fondly recalling the period between 2006 and 2013 when she and co-conspirator Matthew Sweet released three full volumes of their Under The Covers series, on which the two teamed up to pay homage to many of the singles (and album deep cuts) from the 60s, 70s, and 80s which informed and shaped their own musical destinies.
The Beatles, Dylan, Fairport Convention, Neil Young, The Beach Boys, The Who, Grateful Dead, Fleetwood Mac, Carly Simon, The Ramones, The Clash, The Pretenders, The Smiths and Prince are amongst the 57 acts covered. "They're kind of a love letter," says Hoffs, "from us as fans. They're like the equivalent of an old school mixtape that you would give someone you're crazy about. There's something incredibly romantic about it."
With guest appearances from Lindsey Buckingham, Steve Howe, Van Dyke Parks and Dhani Harrison, this 60 song package contains all three albums and fifteen previously-hard to-get bonus tracks cut to 6 x 180-gram heavyweight vinyl LPs for the very first time on the format also including printed inner bags and a deluxe rigid slipcase.
LP1 & 2 – Volume 1 1960s
LP3 & 4 – Volume 2 1970s
LP5 & 6 – Volume 3 1980s
Extra information about this release