Coming Up
Suede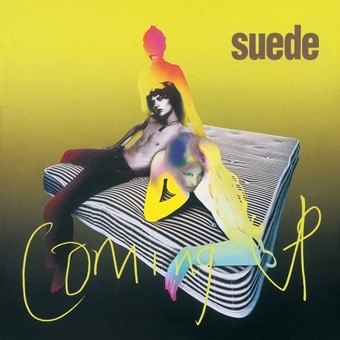 Release information
Release information
Label: Edsel
• Format: CD, DVD & Blu-ray
• Date: 13/06/2011
Cat#: EDSG8003
• Barcode: 740155800338
• Genre: Alternative, Indie, Rock
Sub Genre: Britpop
Track Listing
Trash
Filmstar
Lazy
By The Sea
She
Beautiful Ones
Starcrazy
Picnic By The Motorway
The Chemistry Between Us
Saturday Night
She [Greenhouse demo]
Lazy [Greenhouse demo]
Dead Leg (Beautiful Ones) [four track demo]
Filmstar [Church demo]
Pisspot (Trash) [four track demo]
Ballad Idea (Saturday Night) [Church demo]
Tiswas (Starcrazy) [four track demo]
Asda Town
Together
Bentswood Boys
Europe Is Our Playground [original version]
Have You Ever Been This Low?
Another No One
Every Monday Morning Comes
Sound Of The Streets
Young Men
Sam
Money
This Time
WSD
Jumble Sale Mums
These Are The Sad Songs
Feel
Sadie
Graffiti Women
Duchess
Motown [previously unreleased rehearsal room recording]
Trash
Beautiful Ones
Saturday Night
Lazy
Filmstar
Europe Is Our Playground
Shipbuilding
She
Trash
By The Sea
Lazy
Saturday Night [with Neil Tennant]
Rent [with Neil Tennant]
Europe Is Our Playground
Beautiful Ones
Starcrazy
This Hollywood Life
We Are The Pigs
Killing Of A Flashboy
Animal Nitrate
Heroine
The Wild Ones
So Young
Metal Mickey
Interview
About this release
Suede recruited 17-year-old guitarist Richard Oakes, following the departure of Bernard Butler. Oakes joined for the "Dog Man Star" tour, after which the band returned to the studio to record their third album. At this point they also enlisted keyboard player Neil Codling. The resulting album, issued in 1996, spawned five top ten singles and is their biggest-selling album. This re-mastered deluxe edition features the non-album b-sides as well as demos from the collections of Brett Anderson, Richard Oakes and Neil Codling, including a previously unreleased song.
The DVD features the previously unreleased concert video "Live At The Roundhouse", filmed in December 1996, and featuring a guest appearance from Neil Tennant. Also featured is "Suede in Paris", a newly-discovered full-length film of Richard Oakes' first ever concert with the band in October 1994! The bonus feature is a February 2011 interview with Brett, Richard and Neil about the making of the album, along with a short film put together by Simon Gilbert from his own contemporary camcorder footage.
The booklet contains a specially-written note by Brett Anderson, along with all the lyrics, hand-written lyric drafts, tape boxes, and previously unpublished photos from the collections of both the band and their friends.
CD1 – Coming Up (tracks 1-10), Demos (tracks 11-17), B-Sides (tracks 18-20)
CD2 – B-Sides (tracks 1-16), Extra Tracks (track 17)
DVD – Singles Videos, Suede Live at the Roundhouse 15th December 1996, Suede in Paris 7th October 1994, Brett Anderson, Richard Oakes and Neil Codling 2011 Interview