Coming Up – 20th Anniversary Edition
Suede
Coming Up – 20th Anniversary Edition
Suede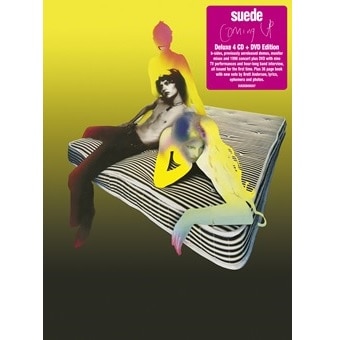 Release information
Release information
Label: Edsel
• Format:
• Date: 30/09/2016
Cat#: SUEDEBOX007
• Barcode: 5014797895263
• Genre: Alternative, Indie, Rock
Track Listing
Trash
Filmstar
Lazy
By The Sea
She
Beautiful Ones
Starcrazy
Picnic By The Motorway
The Chemistry Between Us
Saturday Night
Europe Is Our Playground ['Sci-Fi Lullabies' version]
Trash ['Singles' version]
Europe Is Our Playground [original version]
Have You Ever Been This Low?
Another No One
Every Monday Morning Comes
The Sound Of The Streets
Young Men
Sam
Money
This Time
WSD
Jumble Sale Mums
These Are The Sad Songs
Feel
Sadie
Digging A Hole
Graffiti Women
Duchess
Trash [early take]
Filmstar [monitor mix]
Lazy [first demo]
By The Sea [studio demo]
She [early monitor mix]
Beautiful Ones [early monitor mix]
Starcrazy [first demo]
Picnic By The Motorway [demo]
The Chemistry Between Us [different version]
Saturday Night [monitor mix 2]
Electric Cakes [Together] [demo take 4]
Wedgie [This Time] [demo take 2]
Waltz
Sombre Bongos [Europe Is Our Playground] [demo]
Owly [The Sound Of the Streets] [rehearsal]
Every Monday Morning Comes [demo]
Soundgarden [Have You Ever Been This Low] [different version]
She [strings]
The Chemistry Between Us [strings]
Intro: 'She' strings
Filmstar
Trash
Heroine
She
Lazy
By The Sea
Starcrazy
Animal Nitrate
The Wild Ones
Saturday Night
So Young
New Generation
Beautiful Ones
Europe Is Our Playground
Trash [26.7.96]
Trash [9.8.96]
Beautiful Ones [25.10.96]
Saturday Night [24.1.97]
Filmstar [22.8.97]
Trash [14.12.96]
Saturday Night [14.12.96]
Lazy [14.12.96]
By The Sea [28.08.97]
'Coming Up' Discussion
About this release
Issued in 1996, Suede's third album (and first with the new line-up) is home to five top ten singles: "Trash", "Beautiful Ones", "Saturday Night", "Lazy" and "Filmstar".
This deluxe edition features the album, the b-sides, a CD of previously unreleased demos and monitor mixes, and an entire previously unreleased Amsterdam concert from 1996.
The DVD features nine contemporary TV performances, and an hour-long film of the band and producer Ed Buller discussing the writing and recording of the album, all issued for the first time.
Also included is a new note by Brett Anderson about the creation of the cover image, along with the lyrics, hand-written lyric drafts, tape boxes, and photos from the band's collections.
CD1 – Coming Up
CD2 – B-Sides
CD3 – Demos, Monitor Mixes, Rehearsals
CD4 – Live at the Paradiso, Amsterdam (20.10.96)
DVD – BBC TV Appearances & Bonus DVD Interview
Extra information about this release
Recommended titles