Come Find Yourself – 20th Anniversary Deluxe Edition
Fun Lovin' Criminals
Come Find Yourself – 20th Anniversary Deluxe Edition
Fun Lovin' Criminals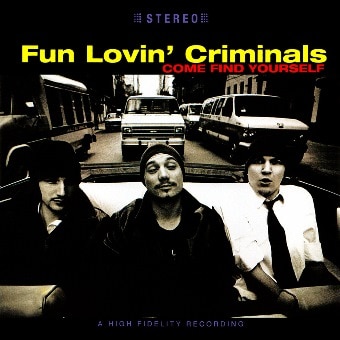 Release information
Release information
Label: Edsel
• Format: CD, Vinyl, DVD & Blu-ray
• Date: 25/03/2016
Cat#: CFYBOX20
• Barcode: 5014797894617
• Genre: Alternative, Funk
Track Listing
The Fun Lovin' Criminal
Passive/Aggressive
The Grave and the Constant
Scooby Snacks
Smoke 'Em
Bombin' the L
I Can't Get with That
King of New York
King of New York
Bear Hug
Come Find Yourself
Crime and Punishment
Methadonia
I Can't Get with That (Schmoove Version)
Coney Island Girl
I'll Be Seeing You
Passive/Aggressive (Clean)
Blues For Suckers (Clean)
Blues For Suckers
The Grave And The Constant (Stephen Lironi 12" Mix)
The Grave And The Constant (Stephen Lironi 12" Instrumental)
Scooby Snacks (Steve Lironi Master Mix)
Scooby Snacks (20 MG Version)
Scooby Snacks (20 Mg Dub)
Scooby Snacks (Rockamental Version)
Scooby Snacks (Schmoove Version)
The Fun Lovin' Criminal (Hee Haw Version)
The Fun Lovin´ Criminal (DJ Bombjack Remix)
King Of New York (Cooley High Remix)
King Of New York (Jack Dangers Mix Complex #1)
King Of New York (Jack Dangers Mix Complex #2)
King Of New York (#1 Of The Secret Service Mix) Remix – Jack Dangers
Scooby Snacks (Recorded for Radio 1 session on 22nd May 1996)
Smoke 'Em (Recorded for Radio 1 session on 22nd May 1996)
I Can't Get With That (Recorded for Radio 1 session on 22nd May 1996)
Come Find Yourself (Recorded for Radio 1 session on 22nd May 1996)
Smoke 'Em (Recorded in Phoenix, Arizona for Radio 1 on 19th July 1996)
King Of New York (Recorded in Phoenix, Arizona for Radio 1 on 19th July 1996)
Come Find Yourself (Recorded in Phoenix, Arizona for Radio 1 on 19th July 1996)
Scooby Snacks (Recorded in Phoenix, Arizona for Radio 1 on 19th July 1996)
Bombin' The L (Recorded at The Astoria for Radio 1's Evening Session on 12th November 1996)
Smoke 'Em (Recorded at The Astoria for Radio 1's Evening Session on 12th November 1996)
I Can't Get With That (Recorded at The Astoria for Radio 1's Evening Session on 12th November 1996)
The Grave And The Constant (Recorded at The Astoria for Radio 1's Evening Session on 12th November 1996)
The Fun Lovin' Criminal (Recorded at The Astoria for Radio 1's Evening Session on 12th November 1996)
King Of New York (Recorded at The Astoria for Radio 1's Evening Session on 12th November 1996)
The Fun Lovin' Criminal (Album Instrumental)
Passive/Aggressive (Album Instrumental)
The Grave And The Constant (Album Instrumental)
Scooby Snacks (Album Instrumental)
Smoke 'Em (Album Instrumental)
Bombin' The L (Album Instrumental)
I Can't Get With That (Album Instrumental)
King Of New York (Album Instrumental)
We Have All The Time In The World (Album Instrumental)
Bear Hug (Album Instrumental)
Come Find Yourself (Album Instrumental)
Crime And Punishment (Album Instrumental)
Methadonia (Album Instrumental)
Scooby Snacks
Smoke 'Em
I Can't Get With That
Come Find Yourself
The Fun Lovin' Criminal (promo video)
Scooby Snacks (LA Version) (promo video)
Scooby Snacks (NYC Version) (promo video)
The Grave And The Constant (promo video)
King Of New York (promo video)
Scooby Snacks (Top Of The Pops 4th July 1997)
Scooby Snacks (Jools's 5th Annual Hootenanny 31st December 1997)
We Have All The Time In The World (Jools's 5th Annual Hootenanny 31st December 1997)
Huey & Fast reminisce and shoot the....!; Dean St Studios, London, 27th November 2015
Original 1996 'Come Find Yourself' album promo EPK
About this release
To coincide with the 20th anniversary of the release of this monumental and ground-breaking album, Edsel is pleased to announce the reissue of the Fun Lovin' Criminals 1996 debut album 'Come Find Yourself'.
DELUXE EDITION:12" Vinyl Instrumental Picture Disc + 10" Vinyl EP + 3CD + DVD in a 12"×12" casebound book. The Deluxe Edition includes a previously unreleased Instrumental Version of the original album on a 12" Picture Disc, along with a 4-track BBC Sessions 10" EP and a DVD featuring the promo videos, TV appearances, new interview and the original album EPK.
The release features a plethora of rarities, live recordings, alternate mixes and unreleased instrumental versions from the vaults of this landmark record, bringing a unique collection together from this seminal era for the very first time.
'Come Find Yourself' has spent 186 weeks on the UK Artist Albums Chart. Features the singles 'King Of New York', 'The Fun Lovin Criminal', 'The Grave And The Constant' and the infamous Quentin Tarantino dialogue sampling single, 'Scooby Snacks'.
Includes a 4,000 word liner note from renowned music journalist Paul Lester, transcribed from his recent interviews with Huey and Fast.
If you order from the Official Store, you will also receive an exclusive signed print!
CD1 – Original UK CD
CD2 – Alternate Mixes
CD3 – BBC Sessions and Selected Instrumentals
12″ Vinyl Picture Disc – Alternate LP
10″ Vinyl EP – BBC Sessions
DVD – Promo videos, TV appearances, new interview
Extra information about this release