Collected Solo Work
Brett Anderson
Collected Solo Work
Brett Anderson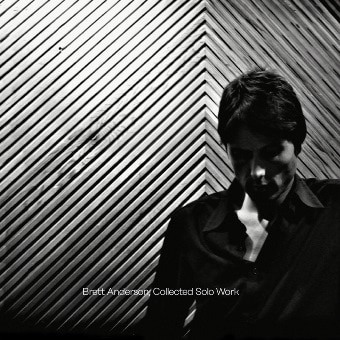 Release information
Release information
Label: Edsel
• Format: CD, DVD & Blu-ray
• Date: 17/03/2017
Cat#: BRETTBOX01
• Barcode: 5014797895409
• Genre: Rock
Track Listing
Love Is Dead
One Lazy Morning
Dust And Rain
Intimacy
To The Winter
Scorpio Rising
The Infinite Kiss
Colour Of The Night
The More We Possess The Less We Own Of Ourselves
Ebony
Song For My Father
Clowns [first version]
We Can Be Anyone
Mother Night
Elegant
Love Is Dead [live at Bush Hall]
Clowns [live at Bush Hall]
A Different Place
The Empress
Clowns
Chinese Whispers
Blessed
Funeral Mantra
Back To You
Knife Edge
P. Marius
Symmetry
Love Is Dead [acoustic]
Song For My Father [acoustic]
Back To You [acoustic]
Ebony [acoustic]
The Infinite Kiss [acoustic]
Love Is Dead
Song For My Father
Clowns
To The Winter
Back To You
Hymn
Wheatfields
The Hunted
Frozen Roads
Summer
Pretty Widows
The Swans
Ashes Of Us
Scarecrows And Lilacs
Julian's Eyes
Leave Me Sleeping
With You Within You
Forest Lullaby
Unsung
Brittle Heart
Crash About To Happen
I Count The Times
The Exiles
This Must Be Where It Ends
Actors
In The House Of Numbers
Thin Men Dancing
Possession
Unstoppable
Savage Dance
Isolation
Brittle Heart [radio edit]
Brittle Heart [instrumental]
Unsung
Wheatfields
The Exiles
Actors
Ashes Of Us
The Hunted
Julian's Eyes
Thin Men Dancing
Possession
In The House Of Numbers
The Swans
Brittle Heart
Scarecrows & Lilacs
Frozen Roads
Chinese Whispers
A Different Place
Funeral Mantra
About this release
Following Suede's hugely successful reformation and the critical acclaim for the albums 'Bloodsports' and 'Night Thoughts', now is the time to re-visit Brett Anderson's four solo albums – BRETT ANDERSON (2007), WILDERNESS (2008), SLOW ATTACK (2009) and BLACK RAINBOWS (2011) – gathered together in a beautiful media book with 23 bonus tracks. These include extremely rare b-sides and two previously
unreleased songs.
The fifth CD is made up of live recordings from shows at Koko, London in 2011 and Lido, Berlin in 2010, recordings only previously available at the ends of the shows themselves.
On the DVD, filmed in December 2016, Brett Anderson talks to Luke Turner of The Quietus about the writing and recording of the albums. Brett has also written brand new notes for each album and the book also features all the lyrics and many photos.
CD ONE – BRETT ANDERSON (Bonus tracks 12-17)
CD TWO – WILDERNESS (Bonus tracks 11-15, Live at the Union Chapel 19 July 2007 tracks 16-20)
CD THREE – SLOW ATTACK (Bonus tracks 11-13)
CD FOUR – BLACK RAINBOWS (Bonus tracks 11-15)
CD FIVE – LIVE 2010/2011 (Koko, 12 October 2011: tracks 1-12/Encore: Lido, Berlin, 1 February 2010: tracks 13-18)
DVD – Brett Anderson talks to Luke Turner about the writing and recording of the albums
Extra information about this release