Cockahoop
Cerys Matthews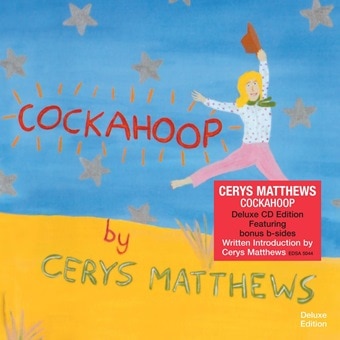 Release information
Release information
Label: Edsel
• Format: CD
• Date: 29/06/2015
Cat#: EDSA5044
• Barcode: 740155504434
• Genre: Pop, Rock
Track Listing
Chardonnay
Caught in the Middle
Louisiana
Weightless Again
Only a Fool
La Bague
...Interlude... (AKA The Miller of Hooterville)
Ocean
Arglwydd Dyma Fi
If You're Lookin' For Love
The Good In Goodbye
Gypsy Song
All My Trials
Banjo Moon
Chilly Winds
Il Est Midi [Three Trees Sessions]
Four Cotton Dresses [Three Trees Sessions]
About this release
"Cockahoop" is the debut album from Cerys Matthews, originally released in 2003, two years after the breakup of Catatonia who'd enjoyed years of chart success and sold over 3 million records.
"Cockahoop" was recorded in Nashville where Cerys had settled at the time, and featured a team of stellar Nashville musicians, led by producer Bucky Baxter (Bob Dylan, Steve Earle, Ryan Adams), and including guitarist Richard Bennett (Emmylou Harris, Travis Tritt), drummer Ken Coomer (Wilco), and multi-instrumentalist Jim Hoke. The album came as a change of direction, showing how Cerys had embedded herself in the diversity of the roots, folk and Americana music she loves so deeply, and that she continues to support via her BBC 6 Music programmes.
This deluxe edition re-issue has the additional inclusion of the non-album b-sides, and a personal introduction written by Cerys Matthews.