Classic Rock Anthems 2 (Vinyl)
Various Artists
Classic Rock Anthems 2 (Vinyl)
Various Artists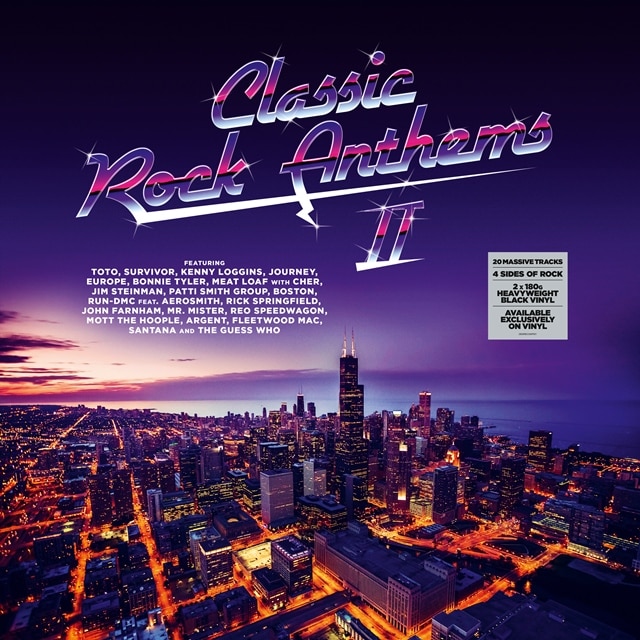 Release information
Release information
Label: Demon Records
• Format: Vinyl
• Date: 03/11/2017
Cat#: DEMRECOMP006
• Barcode: 5014797896376
• Genre: Rock
Track Listing
Toto - Africa
Survivor - Burning Heart
Kenny Loggins - Danger Zone
Journey - Any Way You Want It
Europe - Rock The Night
Bonnie Tyler - Holding Out For A Hero
Meat Loaf With Cher - Dead Ringer For Love
Jim Steinman - Rock And Roll Dreams Come Through
Patti Smith Group - Frederick
Boston - Don't Look Back
RUN-DMC feat. Aerosmith - Walk This Way
Rick Springfield - Human Touch
John Farnham - You're The Voice
Mr. Mister - Kyrie
REO Speedwagon - Take It On The Run
Mott The Hoople - All The Young Dudes
Argent - God Gave Rock And Roll To You
Fleetwood Mac - Black Magic Woman
Santana - She's Not There
The Guess Who - American Woman
About this release
Classic Rock Anthems 2 is the 2nd instalment of Demon Records' Classic Rock Compilation Brand featuring another 20 definitive tracks of Classic Rock!
Presented in a gatefold sleeve with original artwork and pressed on 2x 180g Heavyweight Black Vinyl
Featuring Huge Hits: Africa (Toto) / Danger Zone (Kenny Loggins) / Burning Heart (Survivor) / Walk This Way (RUN-DMC Feat. Aerosmith) / Dead Ringer For Love (Meat Loaf With Cher) + Many More..
Classic Rock Anthems 2 is available Exclusively On Vinyl.
Extra information about this release