Classic 45s: Punk (Vinyl)
Various Artists
Classic 45s: Punk (Vinyl)
Various Artists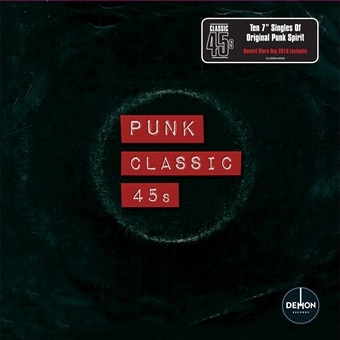 Release information
Release information
Label: Demon Records
• Format: Vinyl
• Date: 16/04/2016
Cat#: CLASSIC45003
• Barcode: 5014797894167
• Genre: Rock
Sub Genre: Punk
Track Listing
The Damned - New Rose
The Mekons - Where Were You
X Ray Spex - Identity
Au Pairs - It's Obvious
The Only Ones - Another Girl, Another Planet
Jonathan Richman - Roadrunner
The Lurkers - Ain't Got A Clue
Slaughter & The Dogs - Cranked Up Really High
Ian Dury - Sex 'n' Drugs 'n' Rock 'n' Roll
Radio Stars - Nervous Wreck
The Fall - Bingo Masters Breakout
Suicide - Cheree
Sham 69 - Borstal Breakout
UK Subs - Warhead
The Vibrators - Stiff Little Fingers
Alternative TV - Action Time Vision
Anti - Nowhere League
The Exploited - Punk's Not Dead
John Cooper Clarke - Beasley Street
Patrik Fitzgerald - Safety Pin Stuck In My Heart
About this release
Punk shook the music industry to its foundations in the mid to late seventies, rejecting the excesses of mainstream rock and introducing energy, passion, and a DIY ethic. Often political and anti-establishment as well as aggressive and rebellious, Punk was a youth culture which re-invigorated music.
The ten specially selected double AA side 7" singles in this box present twenty of the most varied and exciting tracks spanning those crucial few years. It's nearly forty years since many of these tracks appeared on vinyl so it is inevitably very difficult to find mint copies.
From the initial burst of energy of the Damned, X-Ray Spex, and The Lurkers, the hardcore spirit of likes of The Exploited, to the punk poetry of Patrik Fitzgerald and John Cooper Clarke. Housed in a hard slipcase, the ten 7" singles are 'dinked' as juke-box singles and the box includes a 'spider' centre for play.
Extra information about this release