Classic 45s: Country (Vinyl RSD 2017)
Various Artists
Classic 45s: Country (Vinyl RSD 2017)
Various Artists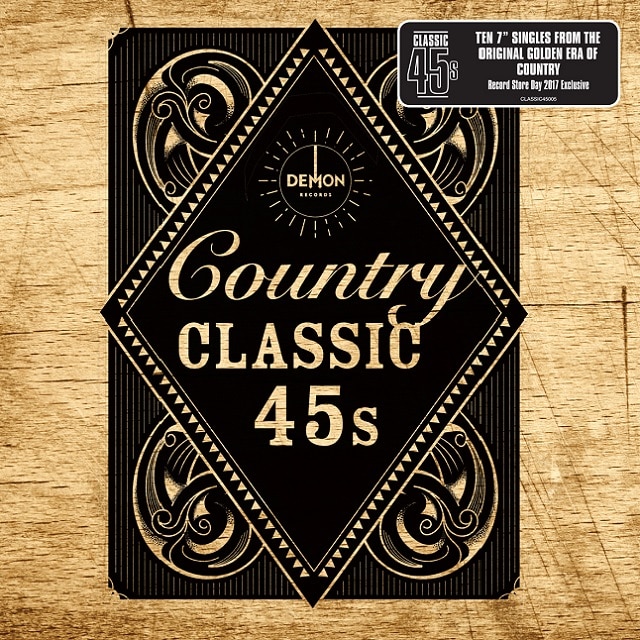 Release information
Release information
Label: Demon Records
• Format: Vinyl
• Date: 21/04/2017
Cat#: CLASSIC45005
• Barcode: 5014797894822
• Genre: Country
Track Listing
Johnny Cash - I Walk the Line
Johnny Cash - Big River
Dolly Parton - Jolene
Dolly Parton - I Will Always Love You
Tammy Wynette - Stand by Your Man
Tammy Wynette - 'Til I Can Make It On My Own
Kris Kristofferson - Help Me Make It Through The Night
Kris Kristofferson - Me And Bobby McGee
George Jones - He Stopped Loving Her Today
George Jones - The Grand Tour
Jim Reeves - He'll Have to Go
Jim Reeves - Distant Drums
Charlie Rich - The Most Beautiful Girl
Charlie Rich - Behind Closed Doors
Marty Robbins - Big Iron
Marty Robbins - Devil Woman
Willie Nelson - On The Road Again
Willie Nelson - Always on My Mind
Bobby Bare - The Gambler
Bobby Bare - 500 Miles Away from Home
About this release
Record Store Day 2017 exclusive release.
Country music is a bigger worldwide phenomenon now than ever before, but the true superstars of Country Music made their own huge impression outside of the USA through the late 1960 to the 1980s.
Superstar artists don't get much bigger than this, and these in particular are quite rightly commonly referred to as 'legends' – Johnny Cash, Dolly Parton, Tammy Wynette, George Jones, Willie Nelson…
The ten specially selected double AA side 7" singles in this box present some of the best known classic hits by these ten artists.
Between 57 and 35 years later it is inevitably impossible to find mint copies of these great songs on vinyl.
Housed in hard slipcase, the ten 7" singles are 'dinked' as juke-box singles and the box includes a 'spider' centre for play.