Classic 45s: The Blues (Vinyl)
Various Artists
Classic 45s: The Blues (Vinyl)
Various Artists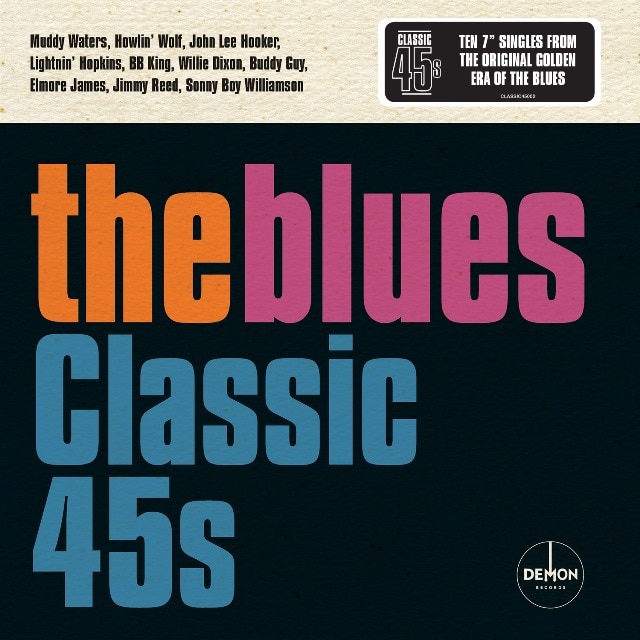 Release information
Release information
Label: Demon Records
• Format: Vinyl
• Date: 17/06/2016
Cat#: CLASSIC45002
• Barcode: 5014797893641
• Genre: Blues
Track Listing
Mannish Boy
I'm Your Hoochie Coochie Man
Smokestack Lightnin'
Spoonful
Mojo Hand
(Bring Me My) Shotgun (Blues)
Every Day I Have The Blues
3 O'Clock Blues
Walking The Blues
Pain In My Heart
The First Time I Met The Blues
I Got My Eyes On You
The Sky Is Crying
Dust My Broom
Baby What You Want Me To Do
Honest I Do
Don't Start Me Talkin'
Nine Below Zero
About this release
The history and development of the blues is a long story, but if there was a 'golden era' is was probably also in the mid to late 1950's alongside the advent of Rock 'n' Roll.
The ten specially selected double AA side 7" singles in this box represent ten of the very biggest and most influential artists of the genre. Over fifty years later it is inevitably impossible to get your hands on mint copies of these great songs on vinyl. Includes Muddy Waters, Howlin' Wolf, John Lee Hooker, Lightnin' Hopkins and BB King
Housed in hard slipcase, the ten 7" singles are 'dinked' as juke-box singles and the box includes a 'spider' centre for play.
Disc 1 – Muddy Waters
Disc 2 – Howlin Wolf
Disc 3 – John Lee Hooker
Disc 4 – Lightnin' Hopkins
Disc 5 – BB King
Disc 6 – Willie Dixon
Disc 7 – Buddy Guy
Disc 8 – Elmore James
Disc 9 – Jimmy Reed
Disc 10 – Sonny Boy Williamson
Extra information about this release