Classic 45s: 70s Rock (Vinyl – RSD 2017)
Various Artists
Classic 45s: 70s Rock (Vinyl – RSD 2017)
Various Artists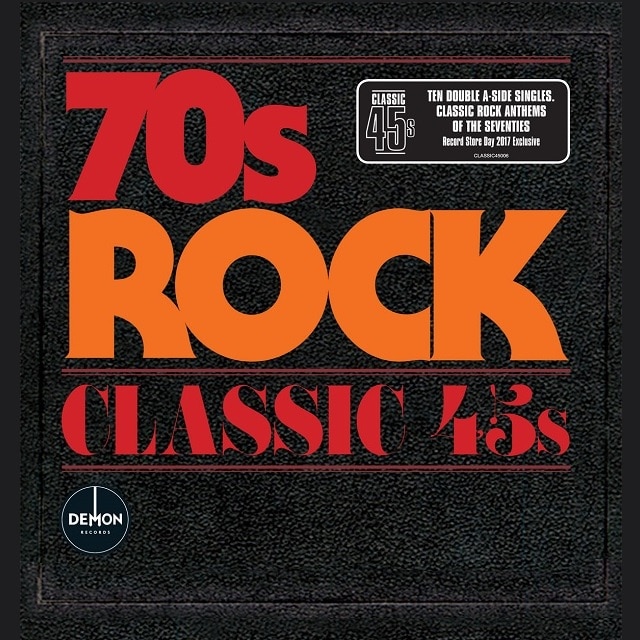 Release information
Release information
Label: Demon Records
• Format: Vinyl
• Date: 21/04/2017
Cat#: CLASSIC45007
• Barcode: 5014797894938
• Genre: Rock
Track Listing
Blue Oyster Cult - (Don't Fear) The Reaper
Santana - She's Not There
Mountain - Mississippi Queen
The Guess Who - American Woman
Boston - More Than A Feeling
Argent - God Gave Rock And Roll To You
Iggy & The Stooges - Search And Destroy
Patti Smith - Because The Night
Lou Reed - Vicious
Family - Burlesque
Mott The Hoople - The Golden Age Of Rock N Roll
Ian Hunter - Once Bitten Twice Shy
Ted Nugent - Cat Scratch Fever
Kansas - Carry On My Wayward Son
Cheap Trick - I Want You To Want Me
Edgar Winter Group - Frankenstein
Ram Jam - Black Betty
Heart - Barracuda
Meatloaf - Bat Out Of Hell
Toto - Hold The Line
About this release
Record Store Day 2017 exclusive release.
Rock with a capital 'R' really ruled the charts before the advent of Punk and New Wave. Guitar anthems and riff and a big sound, big hair, leather and denim. And the Rock Hits of the 1970s don't come much bigger than this.
The ten specially selected double AA side 7" singles in this box pull together twenty of the biggest and most icon tracks of the golden era of ROCK. Forty years later it is inevitably impossible to find mint copies of these great songs on vinyl.
Includes Boston, Blue Oyster Cult, Heart, Cheap Track and Lou Reed
Housed in hard slipcase, the ten 7" singles are 'dinked' as juke-box singles and the box includes a 'spider' centre for play.