Brotherhood Of Man – Gold
Brotherhood Of Man
Brotherhood Of Man – Gold
Brotherhood Of Man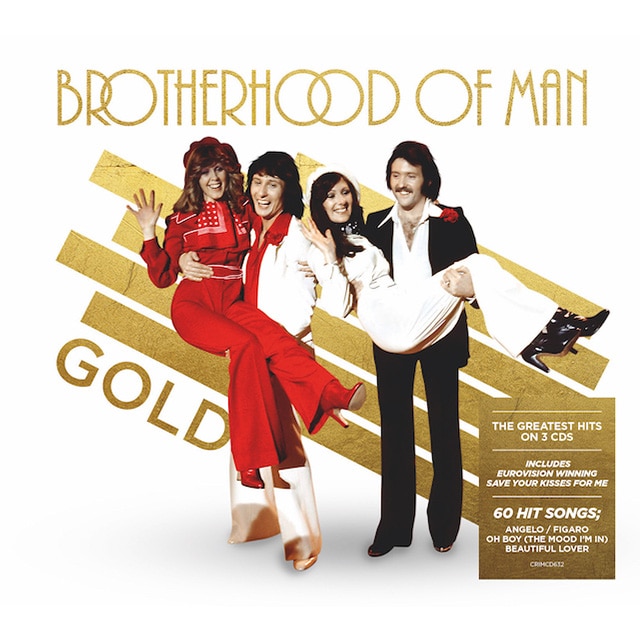 Release information
Release information
Label: Crimson Productions
• Format: CD
• Date: 10/05/2019
Cat#: CRIMCD632
• Genre: Pop
Track Listing
Save Your Kisses For Me
Oh Boy (The Mood I'm In)
My Sweet Rosalie
United We Stand
He Ain't Heavy (He's My Brother)
Lady
Catch Me Catch Me If You Can
Honey Don't Throw Our Love Away
Kiss Me Kiss Your Baby
Kiss Me Senor
The Night The Circus Came To Town
Bye Bye One Kiss Goodbye
Don't Go Breaking My Heart
I'm In A Dancing Mood
In Love
People Over The World
Middle Of The Night
Highway Man
Send In The Clowns
Tonight's The Night
Angelo
Figaro
Beautiful Lover
Where Are You Going To My Love
Don't Give Up On Us Baby
Chanson d'Amour
Images
Dancin' Queen
Papa Louis
When Will I See You Again
How Deep Is Your Love
I'll Go Where The Music Takes Me
Woman In Love
Working My Way Back To You
Heartbreaker
Tugging
Feels Like I'm In Love
Together We Are Beautiful
When You're In Love With A Beautiful Woman
Blame It On The Boogie
Brown Girl In The Ring
D.I.S.C.O.
Yes Sir I Can Boogie
Will You Love Me Tomorrow
Night Fever
Use It Up And Wear It Out
When I Need You
Song Sung Blue
Dance Yourself Dizzy
If You Leave Me Now
I Will Survive
Knock On Wood
Ring My Bell
We Don't Talk Anymore
Copacabana (At The Copa)
Lay All Your Love On Me
Taxi
Annie's Song
My Eyes Adored You
Y.M.C.A.
About this release
Brotherhood Of Man are best known as the winners of 1976 Eurovision Song Contest with 'Save Your Kisses for Me', with memorable choreography and the signature red/white/ black outfits. They scored many more hits around the world including 'Kiss Me Kiss Your Baby', 'Angelo' 'Oh Boy (The Mood I'm In) and 'Figaro', selling over 15 million records. This 3CD Gold release brings together 60 their biggest hits from across the 1970s and includes covers such as 'Brown Girl In The Ring', 'Dancin' Queen', 'I Will Survive' and many more.