Bolan's Zip Gun & Futuristic Dragon
T.Rex
Bolan's Zip Gun & Futuristic Dragon
T.Rex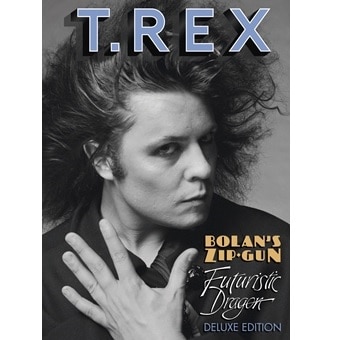 Release information
Release information
Label: Edsel
• Format: CD
• Date: 03/03/2017
Cat#: BLN775240
• Barcode: 5014797895386
• Genre: Rock
Sub Genre: Glam Rock
Track Listing
Light Of Love
Solid Baby
Precious Star
Token Of My Love
Space Boss
Think Zinc
Till Dawn
Girl In The Thunderbolt Suit
I Really Love You Babe
Golden Belt
Zip Gun Boogie
Do You Wanna Dance?
Dock Of The Bay
Futuristic Dragon (Introduction)
Jupiter Liar
Chrome Sitar
All Alone
New York City
My Little Baby
Calling All Destroyers
Theme For A Dragon
Sensation Boulevard
Ride My Wheels
Dreamy Lady
Dawn Storm
Casual Agent
London Boys
Laser Love
Life's An Elevator
Till Dawn
Light Of Love
Sky Church Music
City Port [by Pat Hall]
Bolan's Zip Gun
Solid Baby
I Really Love You Babe
Golden Belt
Children Of Rarn [extract]
Savage Beethoven
Love For Me
My Little Baby
Casual Agent
Dawn Storm
All Alone
New York City
Futuristic Dragon Intro
Bust My Ball
Brain Police
London Boys
Funky London Childhood
About this release
Following the success of Edsel's book sets of the 'Tanx' + 'Zinc Alloy' albums, as well as 'Born To Boogie', we now present the next instalment – the pairing of 1975's 'Bolan's Zip Gun' and 1976's 'Futuristic Dragon'
'Bolan's Zip Gun' was produced by Marc Bolan, without Tony Visconti for the first time. It featured the hit singles "Light Of Love" and "Zip Gun Boogie". 'Futuristic Dragon' featured "Dreamy Lady" and "New York City", Bolan's biggest latter-day hit.
For this deluxe media book edition, we have added 21 bonus outtakes and demos from the two albums, seven of which have been mastered from original first generation tapes in the possession of two dedicated fans – this is the first time these tapes have been used.
The book features a brand new 10,000+ word note by acknowledged Bolan authority, Mojo writer Mark Paytress, and for this edition we have commissioned additional research into the lyrics to present an authoritative version of Bolan's words. With a rarely-seen Terry O'Neill photograph featured on the front cover, the book also features ephemera and many press clippings from the era.
CD1 – Bolan's Zip Gun
CD2 – Futuristic Dragon
CD3 – Outtakes