Boj-A-BOOM! (Digital)
Boj
Boj-A-BOOM! (Digital)
Boj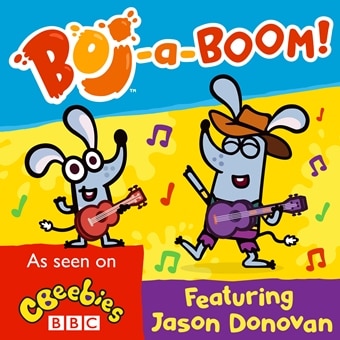 Release information
Release information
Label: Little Demon
• Format: Digital
• Date: 10/02/2017
Cat#: 5032698631872
• Barcode: 5032698631872
• Genre: Children's
Track Listing
Boj Theme Tune (feat. Jason Donovan)
Giggly Jig (feat. Jason Donovan)
Make It Better (feat. Jason Donovan)
Altogether Now (feat. Jason Donovan)
Do the Boj (feat. Jason Donovan)
Surprise Sing-Song (feat. Jason Donovan)
Keep on Going (feat. Jason Donovan)
Boj-A-BOOM! (feat. Jason Donovan)
In the Park (feat. Jason Donovan)
Song for Mimi (feat. Jason Donovan)
Friends Friends Friends (feat. Jason Donovan)
Thank You (feat. Jason Donovan)
Big Boj Beat (feat. Jason Donovan)
Home to Me (feat. Jason Donovan)
What Am I Like? (feat. Jason Donovan)
Under the Giggly Moon (feat. Jason Donovan)
About this release
Boj is a loveable Australian bilby.
He's full of creativity and messy fun and since popping up as the new kid in Giggly Park he's made lots of new buddies. Everyone loves Boj's upside-downy, topsy-turvy ways.
With his improvised 'Boj-a-boom' ideas, Boj can solve everybody's problems, and when Boj gets boj-ing he builds friendships and bonds the whole community together like never before.
Sing-a-long with Boj on this 16 track album featuring Jason Donovan.
Extra information about this release