Bobby Darin Sings The Shadow Of Your Smile
Bobby Darin
Bobby Darin Sings The Shadow Of Your Smile
Bobby Darin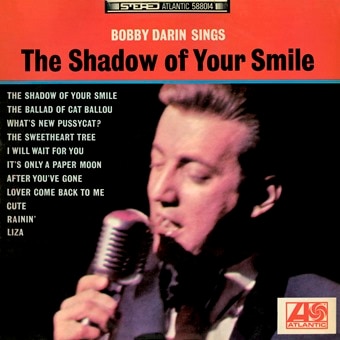 Release information
Release information
Label: Edsel
• Format: CD
• Date: 17/06/2016
Cat#: EDSA5052
• Barcode: 740155505233
• Genre: Blues, Jazz, Pop, Rock
Track Listing
The Shadow Of Your Smile
The Sweetheart Tree
I Will Wait For You
The Ballad Of Cat Ballou
What's New Pussycat?
Rainin'
Lover Come Back To Me
Cute
After You've Gone
It's Only A Paper Moon
Liza (All The Clouds'll Roll Away)
We Didn't Ask To Be Brought Here
Funny What Love Can Do
The Breaking Point
Silver Dollar
About this release
The influence and popularity of the Las Vegas stylings of all-round entertainer Bobby Darin continue despite his
untimely death in 1973 at the age of 37.
Darin's first album for Atlantic Records, "Sings The Shadow Of Your Smile" (originally released in March 1966) features the five movie songs nominated for the Academy Award™ in 1966, including "The Ballad Of Cat Ballou" and "What's New Pussycat", plus a further six standards. The four bonus tracks are non-album a- and bsides issued the same year. To commemorate the 50th anniversary of the album's release, it is now presented in a digipak, with a booklet featuring detailed liner notes by Fred Dellar.