Bob Mould – Distortion: The Best Of 1989-2019 [4CD]
Bob Mould
Bob Mould – Distortion: The Best Of 1989-2019 [4CD]
Bob Mould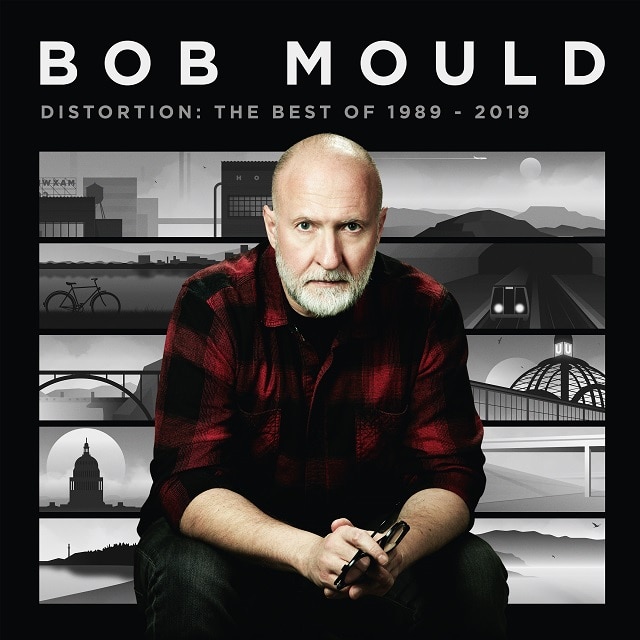 Release information
Release information
Label: Edsel
• Format: CD
• Date: 16/04/2021
Cat#: EDSL0074
• Barcode: 0740155727437
• Genre: Alternative, Indie, Rock
Track Listing
Sunspots
Wishing Well
See A Little Light
Poison Years
Sinners And Their Repentances
Black Sheets Of Rain
Stand Guard
One Good Reason
A Good Idea
Changes
Hoover Dam
If I Can't Change Your Mind
Needle Hits E
Tilted
Feeling Better
Gift
Your Favorite Thing
Gee Angel
I Hate Alternative Rock
Egøverride
Art Crisis
Moving Trucks
Who Was Around?
Sweet Serene
180 Rain
Sunset Safety Glass
I Cannot Reverse You
Circles
Paralyzed
Days Of Rain
(Shine Your) Light Love Hope (Morel's Pink Noise Mix)
Hormone Love
Overload
Who Needs To Dream?
The Silence Between Us
Shelter Me
Very Temporary
Life And Times
City Lights (Days Go By)
Argos
Star Machine
The Descent
Keep Believing
I Don't Know You Anymore
The War
Tomorrow Morning
Voices In My Head
Daddy's Favorite
Black Confetti
Sunshine Rock
What Do You Want Me To Do
The Final Years
Lost Faith
Western Sunset
If You're True (Live at Cabaret Metro, 14th May 1989)
Poison Years (Live at Cabaret Metro, 14th May 1989)
Brasilia Crossed With Trenton (Live at Cabaret Metro, 14th May 1989)
See A Little Light (Live at Cabaret Metro, 14th May 1989)
Hoover Dam (Live at First Avenue, 2nd November 1994)
After All The Roads Have Led To Nowhere (Live at First Avenue, 2nd November 1994)
Helpless (Live at First Avenue, 2nd November 1994)
If I Can't Change Your Mind (Live at First Avenue, 2nd November 1994)
Explode And Make Up (Live at First Avenue, 2nd November 1994)
I Hate Alternative Rock (Live at The Forum, 29th October 1998)
Stand Guard (Live at The Forum, 29th October 1998)
Egøverride (Live at The Forum, 29th October 1998)
Hanging Tree (Live at The Forum, 29th October 1998)
Paralyzed (Live at Kutsher's Country Club, 21st September 2008)
I Apologize (Live at Kutsher's Country Club, 21st September 2008)
Chartered Trips (Live at Kutsher's Country Club, 21st September 2008)
Celebrated Summer (Live at Kutsher's Country Club, 21st September 2008)
Makes No Sense At All (Live at Kutsher's Country Club, 21st September 2008)
New Day Rising (Live at Kutsher's Country Club, 21st September 2008)
About this release
Edsel presents Distortion: The Best Of 1989-2019, the first career spanning compilation of solo recordings by legendary American musician Bob Mould. Bob Mould's career began in 1979 with the iconic underground punk group Hüsker Dü; before forming the beloved alternative rock band Sugar and releasing numerous critically acclaimed solo albums. At the vanguard of his field for over four decades, Mould's music has inspired generations of musicians. Compiled by Bob Mould himself, this new collection gathers together 73 essential recordings across four CDs.
Highlights include classic studio recordings such as 'See A Little Light', 'If I Can't Change Your Mind', 'A Good Idea', and 'The Descent' plus an entire disc of live recordings from the period.
Mastered by Jeff Lipton and Maria Rice at Peerless Mastering in Boston. Includes a 32-page companion booklet featuring a foreword by Fred Armisen, a new essay by Keith Cameron, contributions from Richard Thompson, Shirley Manson, and Bethany Cosentino, plus artwork by illustrator Simon Marchner.
Highlights are also available on 2CD and 2LP editions.