Black Francis: 07-11 (9CD)
Black Francis
Black Francis: 07-11 (9CD)
Black Francis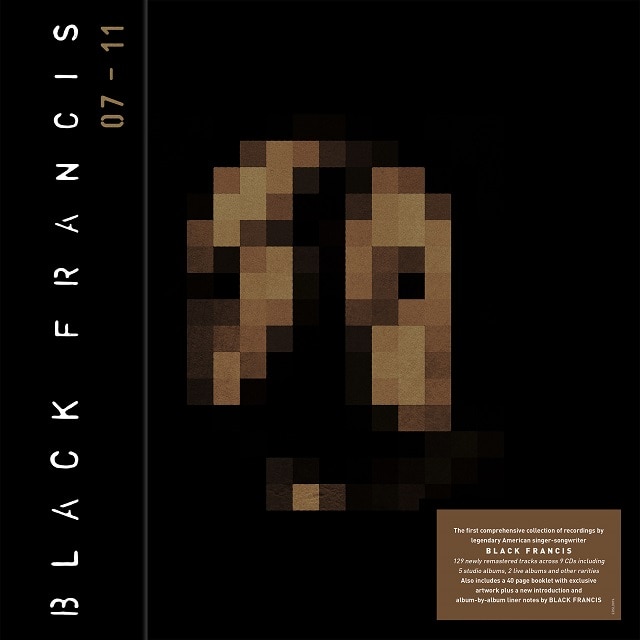 Release information
Release information
Label: Edsel
• Format: CD
• Date: 22/10/2021
Cat#: EDSL0096
• Barcode: 0740155729639
• Genre: Alternative, Rock
Track Listing
Captain Pasty
Threshold Apprehension
Test Pilot Blues
Lolita
Tight Black Rubber
Angels Come To Comfort You
Your Mouth Into Mine
Discotheque 36
You Can't Break A Heart And Have It
She Took All The Money
Bluefinger
The Seus
Garbage Heap
Half Man
I Sent Away
Seven Fingers
Tale Of Lonesome Fetter
When They Come To Murder Me
Lake Of Sin
O My Tidy Sum
Rabbits
Wheels
Dead Man's Curve
Corrina
Six Legged Man
Wild Son
When I Go Down On You
Nonstoperotik
Cinema Star
Lost Mi Love (Bonus Track)
Taint No Use (Bonus Track)
Rocket USA (Bonus Track)
The Grindsman (Bonus Track)
Miriam And Florian Theme (Version 2)
Makanujo
Bad News
The Flower Song
(Oh How I Wish I Could) Stay
The Word
Astaroth
The Obedient Servant
The Maharal
Little Stars Theme
Miriam And Florian
The Conjuring
Meet Me At The Ghetto Gates
Stars
Custom All The Way
You're Gonna Pay
The Word (Reprise)
The Maharal (Reprise)
Curse
On The Corner
Magic Cup
Ugly Life
Seal
The Last Song
Crescent Moon
Deconstructed
Praise
Happy Shoes
Abbabubba
Serious Curious
II Cuchaiao
Alabaster
Rabbits
Dead Man's Curve
Polly's Into Me
The Seus (Infadels Remix)
Ghost Coming
The Water
The Seus (Chareles Normal Remix)
Do What You Want (Gyaneshwar)
Get Away Oil
The Sesus (Bloc Party Remix)
Virginia Reel
I Burn Today
Old Black Dawning
Bluefinger
Horrible Day
Do What You Want (Gyaneshwar)
Velouria
Tight Black Rubber
Space Is Gonna Do Me Good
Headache
Angels Come To Comfort You
All My Ghosts
The Water
Wave Of Mutilation
Massif Central
I Heard Ramona Sing
Bullet
Test Pilot Blues
The Holiday Song
She Took All The Money
Dead Man's Curve
Brackish Boy
Sir Rockabye
Mr. Grieves
Your Mouth Into Mine
I'll Be Blue
Broken Face [with 'Sister Isabelle' snippet]
Nimrod's Son
Jumping Beans
Cactus
Get Away Oil
I Sent Away
When They Come To Murder Me
Seven Fingers
Do What You Want (Gyaneshwar)
Halfman
All Around The World
(Talking)
Dead Man's Curve
Bluefinger
(Talking)
Tight Black Rubber
Test Pilot Blues
Discotheque 36
Your Mouth Into Mine
She Took All The Money
Angels Come To Comfort You
Threshold Apprehension
Can't Break Heart And Have It
(Talking)
Lolita
Captain Pasty
Band Intro
That Burnt Out Rock And Roll
About this release
Edsel is proud to present 07-11, a new collection of recordings by legendary American singer-songwriter Black Francis.
Best known as the frontman of iconic alternative rock band Pixies, Black Francis' music has inspired generations of musicians from Nirvana to Radiohead. Compiled with the assistance of Black Francis himself, 07-11 gathers together eight albums from one of the most prolific periods of his career.
This expansive new boxset features 129 tracks across nine CDs including five studio albums – 'Bluefinger' (2007), 'Sv n F ng rs' (2008), 'The Golem' (2010), 'NonStopErotik' (2010), and 'Paley & Francis' (2011). Plus, 'Abbabubba', a collection of B-sides, rarities and remixes, as well as two live albums 'Live In Nijmegen' and 'Live At The Hotel Utah Saloon' (which is released on CD for the very first time).
All eight albums have been newly mastered for this release by Phil Kinrade at Alchemy Mastering at AIR.
Also includes a 40-page companion booklet featuring exclusive new artwork, along with an introduction and album-by-album liner notes by Black Francis himself.
Recommended titles