Bill Wyman's Blues Odyssey
Various Artists
Bill Wyman's Blues Odyssey
Various Artists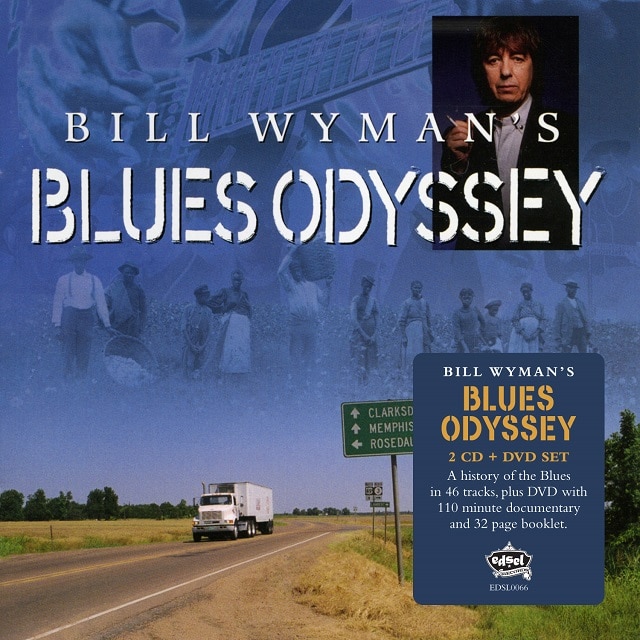 Release information
Release information
Label: Edsel
• Format: CD
• Date: 17/07/2020
Cat#: EDSL0066
• Barcode: 740155726638
• Genre: Blues, R&B and Soul
Track Listing
Mamie Smith 'Goin' Crazy With The Blues'
Bessie Smith 'Lock And Key'
Papa Charlie Jackson 'All I Want Is A Spoonful'
Blind Lemon Jefferson 'Matchbox Blues'
Luke Jordan 'Church Bell Blues'
Blind Blake 'Southern Ring'
Frank Stokes 'What's The Matter Blues'
Mississippi John Hurt 'Stack O'Lee Blues'
Pine Top Smith 'Pine Top's Boogie Woogie'
Montana Taylor 'Indiana Avenue Stomp'
Tampa Red & Georgia Tom 'The Duck Yas Yas Yas'
Charley Patton 'Shake It And Break It (But Don't Let It Fall Mama)'
Frankie 'Half-Pint' Jaxon 'Come On Mama, Do That Dance'
Jesse 'Baby Face' Thomas 'Blue Goose Blues'
Speckled Red ' The Dirty Dozens'
Blind Willie Walker 'South Carolina Rag'
Bo Carter 'Pussy Cat Blues'
Blind Willie McTell 'Searching The Desert For The Blues'
Joe Pullum 'Cows, See That Train Comin''
Rob Cooper 'West Dallas Drag'
Bumble Bee Slim 'Ramblin' With That Woman'
Casey Bill Weldon 'W.P.A Blues'
Meade 'Lux' Lewis 'Honky Tonk Train Blues'
Robert Johnson 'Terraplane Blues'
Walter 'Cowboy' Washington 'Ice Pick Mama'
Black Boy Shine 'Gamblin Jinx Blues'
Peetie Wheatstraw 'Peetie Wheatstraw Stomp'
Big Bill Broonzy 'Good Boy'
Georgia White 'Alley Boogie'
Blind Boy Fuller 'Meat Shakin' Woman'
'Cow Cow' Davenport 'Railroad Blues'
Sleepy John Estes 'Special Agent (Railroad Police Blues)'
Joe Turner 'Roll 'em Pete'
Lonnie Johnson 'Jersey Belle Blues'
Tommy McClennan 'Brown Skin Girl'
Memphis Slim 'Beer Drinkin' Woman'
Memphis Minnie 'Me And My Chauffeur Blues'
'Big' Joe Williams 'Baby Please Don't Go'
Pete Johnson 'Dive Bomber'
Sonny Terry & Brownie McGhee 'Carolina Blues'
Big Maceo 'Kid Man Blues'
John Lee Hooker 'Boogie Chillen'
Muddy Waters 'You're Gonna Miss Me (When I'm Dead And Gone)'
Lil Son Jackson 'Rockin' And Rollin'
B.B. King '3 O'Clock Blues'
Elmore James 'Dust My Broom'
BILL WYMAN'S BLUES ODYSSEY - A JOURNEY TO MUSIC'S HEART & SOUL
About this release
The Rolling Stones were named after a song by Blues legend Muddy Waters, and Bill Wyman is keen to point out that the group's second Number 1 UK hit was a Blues song, Howlin' Wolf's "Little Red Rooster". Bill has always been a fan of the Blues, and in 2001, using his knowledge and love of the genre, he put together this 2 CD set of his own favourites, tracing the history of the Blues.
The forty-six tracks are arranged chronologically, and include a track from every important, seminal and influential Blues artist. Amongst the tracks are the originals of songs like "Baby Please Don't Go", "Matchbox" and "Spoonful", songs that were so important to the development of rock 'n' roll, and of rock music in the UK. Aside from the Stones, Eric Clapton in both the Yardbirds and Cream, Fleetwood Mac, The Animals, John Mayall and Led Zeppelin were all great aficionados – Led Zeppelin notably including Blues covers on their first four albums.
The DVD features a 110 minute documentary on the history of the Blues presented by Clarke Peters, "Lester Freamon" in The Wire TV series, and writer of the book for the musical "Five Guys Named Moe". The entertaining and informative programme features Bill Wyman giving his take on the importance of the genre, talking with many of the blues greats. The programme includes contributions from a host of legendary performers, and interviews with B.B. King, Sam Phillips, Buddy Guy, Taj Mahal, Mick Fleetwood, Otis Rush, Albert Lee, Mike Love of The Beach Boys, Wilson Pickett, Clarence Fountain of The Blind Boys of Alabama, Lazy Lester, Big Bill Morganfield (Muddy Waters' son), Rosetta Patton (Charley Patton's daughter), Guy Davis and Gary Brooker of Procol Harum.
The lavishly illustrated 32-page booklet features annotation for every track.