Big Thing
Blue Zone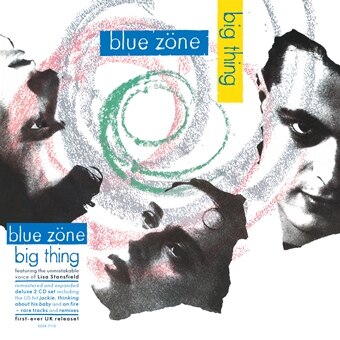 Release information
Release information
Label: Edsel
• Format: CD
• Date: 18/11/2016
Cat#: EDSK7115
• Barcode: 74015571153 5
• Genre: Pop
Track Listing
Jackie
Thinking About His Baby
Without A Word To Say
Sugar Tree
Her Seedy Life
Perfect Crime
One Kiss
Greedy Love
On Fire
We Will Cry
Feel It From Inside
Big Thing
Love Will Wait
Finest Thing
There Was I
Dirty Talk
Be The Sugar
Chance It
Big Thing (Extended Version)
On Fire (Conflagration Mix)
Thinking About His Baby (Extended Version)
Jackie (Wake Up Mix)
Love Will Wait (Extended Version)
Finest Thing (Extended Version)
On Fire (Extended Version)
Jackie (Shotgun Scream Mix)
Love Will Wait (Re-Mix)
Finest Thing (US Remix)
On Fire (Dub [Embers Mix])
Big Thing (Big Dub Club Mix)
About this release
Before Lisa Stansfield conquered the world's charts as a solo artist, she fronted Rochdale trio Blue Zone, alongside Ian Devaney and Andy Morris. Their sole album Big Thing was released in 1988, by which time they had built up a devoted club following and scored a US chart hit with Jackie.
Making this sought-after album available in the UK for the very first time, this remastered Deluxe Edition follows Edsel's acclaimed reissues of Lisa's Arista solo albums and has been expanded to feature bonus tracks including the early singles Love Will Wait and Finest Thing, rare Bsides and 12" mixes.
The 24-page booklet features photos, memorabilia, lyrics and brand new sleeve notes.