Big Music
Simple Minds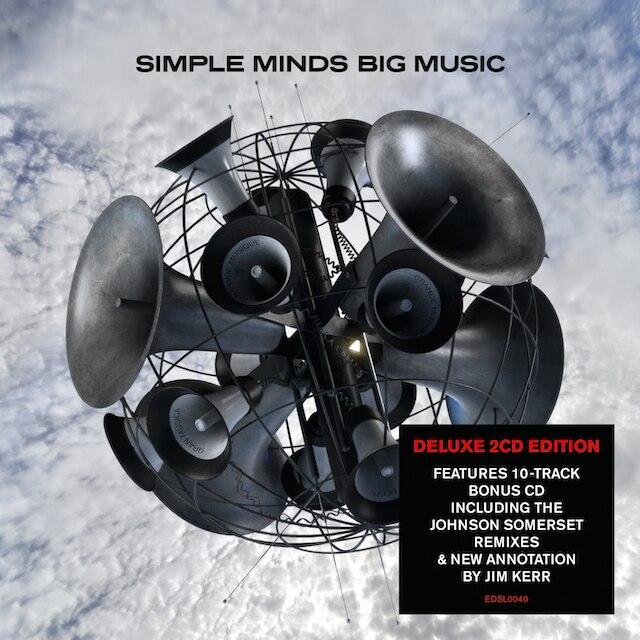 Release information
Release information
Label: Edsel
• Format: CD, Digital
• Date: 24/05/2019
Cat#: EDSL0040
• Barcode: 740155724030
• Genre: Pop, Rock
Sub Genre: New Wave, Synth Pop
Track Listing
Blindfolded
Midnight Walking
Honest Town
Big Music
Human
Blood Diamonds
Let The Day Begin
Concrete And Cherry Blossom
Imagination
Kill Or Cure
Broken Glass Park
Spirited Away
Blindfolded [Reprise]
Swimming Towards The Sun
Bittersweet
Liaison
Riders On The Storm
Dancing Barefoot
(Get A) Grip (On Yourself) [single version] (with The Stranglers)
Blindfolded [Johnson Somerset Remix]
Midnight Walking [Johnson Somerset Remix]
Honest Town [Johnson Somerset Remix]
Big Music [Johnson Somerset Remix]
About this release
Preceded by the single "Honest Town", "Big Music" was the band's sixteenth studio album, debuting at number 12 on the UK albums chart when it was released in October 2014.
This Deluxe 2CD Edition features the limited edition "Big Music" Bonus CD. This now includes five extra album tracks, including a version of The Doors' "Riders On The Storm", plus the standalone single of the Simple Minds/Stranglers collaboration on "(Get A) Grip (On Yourself"). The four remixes are the acclaimed Johnson Somerset remixes of the singles from "Big Music".
Housed in a handsome digipak, the booklet features photos and newly-written revealing annotation by Jim Kerr himself.
Extra information about this release