Rastamouse: Best Friends
Rastamouse & Da Easy Crew
Rastamouse: Best Friends
Rastamouse & Da Easy Crew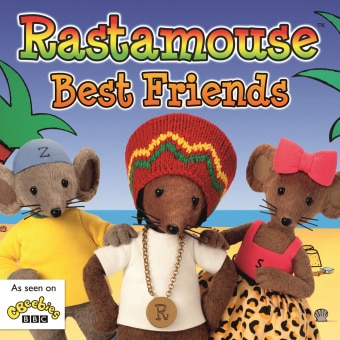 Release information
Release information
Label: Little Demon
• Format: CD, Digital
• Date: 24/06/2016
Cat#: LTDMG035
• Barcode: 5014797710351
• Genre: Children's
Track Listing
Our Town
Originality
Take It Easy
"Dis Is For Real FM" (Intro)
Ya Never Too Old (Da Sandy Bay Boyz)
Da Mouseland Anthem
Grovetown (Acapella Version)
Work, Work, Work (Da Sugamice)
Sorry
Mi Love Mi Music
Best Friends (Acoustic)
You Can Be Anything
Rastamouse Medley
Thank You
About this release
CBeebies favourite Rastamouse is back with a NEW album!
CD contains a free pull-out activity sheet, games and alternative sleeve. The smash hit and critically acclaimed childrens TV animation series has become a phenomenon since launching on CBeebies and has quickly developed into one of the most popular children's shows in the UK.
The music and songs on the album has been recorded with REAL instruments and will appeal to both kids and parents.
Rastamouse & Da Easy Crew are a crime busting mouse reggae band, who split their time between making music and solving mysteries. Featuring Rastamouse on lead guitar, Scratchy: DJ and bass player, and Zoomer the bongo player and speediest mouse in Mouseland!
Recommended titles