Bert Jansch, John Renbourn, Pentangle – Gold
Bert Jansch John Renbourn Pentangle
Bert Jansch, John Renbourn, Pentangle – Gold
Bert Jansch John Renbourn Pentangle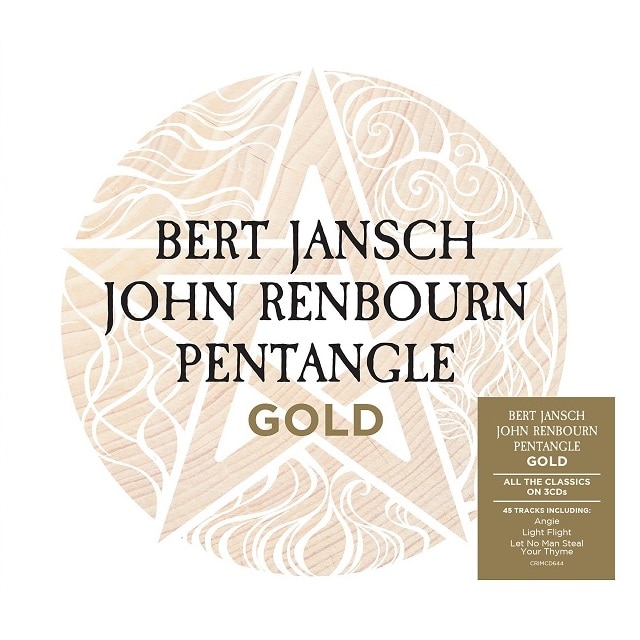 Release information
Release information
Label: Crimson Productions
• Format: CD
• Date: 03/09/2021
Cat#: 654378064425
• Barcode: CRIMCD644
• Genre: Rock
Sub Genre: Folk Rock
Track Listing
Needle Of Death
Angie
The Waggoner's Lad
It Don't Bother Me
The First Time Ever I Saw Your Face
Oh My Babe
My Lover
Lucky Thirteen
Life Depends On Love
Weeping Willow Blues
Come Back Baby
Wishing Well
Birthday Blues
Sylvie
Rosemary Lane
Plainsong
Nobody's Fault But Mine
Goodbye Pork Pie Hat
The Time Has Come
After The Dance
Can't Keep From Crying
No Exit
Blue Bones
The Trees They Do Grow High
Shake Shake Mama
The Earle Of Salisbury
Forty Eight
Faro's Rag
Kokomo Blues
The Hermit
Light Flight
Let No Man Steal Your Thyme
Once I Had A Sweetheart
Travelling Song
Market Song
Bruton Town
Hole In The Coal
Sweet Child
Hear My Call
Wedding Dress
Will The Circle Be Unbroken?
Springtime Promises
The Cuckoo
The Cruel Sister
Pentangling
About this release
Crimson Gold presents a new compilation which gathers together 45 classic recordings, from Bert Jansch, John Renbourn, and Pentangle. The release begins in the mid-'60s with solo recordings by Bert Jansch and John Renbourn and concludes with their coming together and the unique English folk sound of Pentangle.
CD 1 opens the set with solo recordings by Scottish folk musician, Bert Jansch. Best known as an acoustic guitarist and singer-songwriter, Jansch was a leading figure in the '60s British folk revival and is known for classic folk recordings such as 'Angie' and 'Needle Of Death' – both of which are included here. His unique style of guitar playing would go on to inspire generations of musicians including Johnny Marr, Jimmy Page, and Graham Coxon.
CD 2 continues to explore the roots of Pentangle with influential tracks by John Renbourn such as 'The Hermit', 'Nobody's Fault But Mine' and 'The Earle Of Salisbury' which showcases his distinctive guitar playing technique. Also included on this disc are tracks from the 1966's collaborative 'Bert and John' album, including 'Goodbye Pork Pie Hat' and 'After The Dance'.
CD 3 completes the set with 15 stand-out tracks from folk-rock group Pentangle. Formed around the virtuoso guitarists Bert Jansch and John Renbourn, the group were able to master a variety of genre spanning styles and developed a cult-following. Classic tracks here include 'Light Flight', 'Let No Man Steal Your Thyme' and 'Once I Had A Sweetheart'.
Extra information about this release