Belinda Carlisle: The CD Singles 1986 – 2014
Belinda Carlisle
Belinda Carlisle: The CD Singles 1986 – 2014
Belinda Carlisle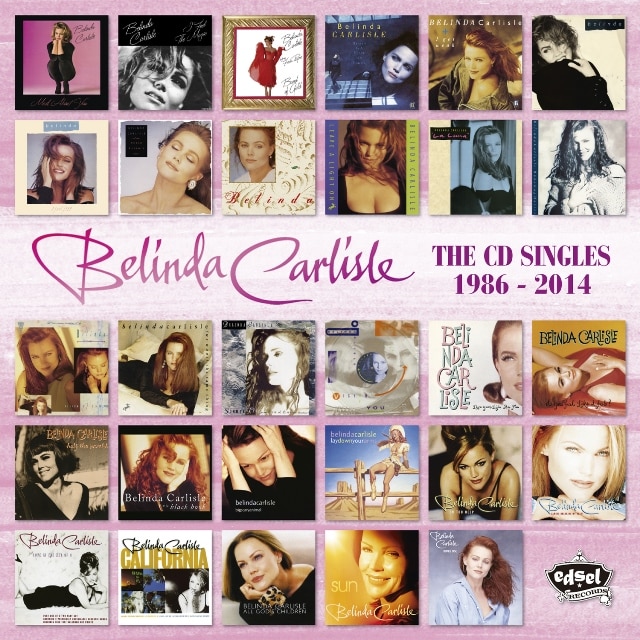 Release information
Release information
Label: Edsel
• Format: CD
• Date: 21/08/2015
Cat#: CARLISLEBOX01
• Barcode: 5014797893504
• Genre: Pop
Sub Genre: Classic Pop
Track Listing
Mad About You (single mix)
Mad About You (extended mix)
Mad About You (instrumental mix)
I Never Wanted A Rich Man
I Feel The Magic
From The Heart
Gotta Get To You
Band Of Gold (single mix)
Band Of Gold (extended mix)
Band Of Gold (dub mix)
From The Heart
Heaven Is A Place On Earth (single mix)
Heaven Is A Place On Earth (album version)
Heaven Is A Place On Earth (Heavenly Version)
Heaven Is A Place On Earth (Down To Earth Dub)
Heaven Is A Place On Earth (a cappella (The Voice)
We Can Change
I Get Weak (7" version)
I Get Weak (album version)
I Get Weak (12" version)
I Get Weak (instrumental)
I Get Weak (US 7" mix)
Should I Let You In
Circle In The Sand (7" version)
Circle In The Sand (Seaside Mood Groove Mix)
Circle In The Sand (Beach Party Mix)
Circle In The Sand (Sandblast Multi-Mix)
I Feel Free (7" version)
I Feel Free (extended version)
I Feel Free (dub)
World Without You (7" remix)
World Without You (extended worldwide mix)
World Without You (Panavision Mix)
Nobody Owns Me
Love Never Dies (single version)
Love Never Dies (full length version)
I Feel Free [live]
Circle In The Sand [live]
Heaven Is A Place On Earth [live]
Leave A Light On (7" version)
Leave A Light On (extended mix)
Shades Of Michelangelo
La Luna (7" version)
La Luna (album version)
La Luna (extended dance mix)
La Luna (12" dub mix)
La Luna (A Capella)
Whatever It Takes
Leave A Light On [Kamikazee Single Mix]
Runaway Horses (single version)
Runaway Horses (album version)
Heaven Is A Place On Earth [live]
Circle In The Sand [Beach Party Mix]
Too Much Water [8 track demo]
Vision Of You (7" version)
Leave A Light On [Kamikazee Mix]
I Feel Free [12" extended mix]
(We Want) The Same Thing (Summer remix)
(We Want) The Same Thing (extended Summer remix)
Shades Of Michelangelo
Circle In The Sand [Sandblast MultiMix]
Summer Rain (7" edit)
Summer Rain (album version)
Summer Rain (extended version)
Summer Rain (dub mix)
Summer Rain (Justin Strauss radio edit)
Leave A Light On [Kamikazee Mix]
Vision Of You (Remix '91)
Vision Of You (original 7" version)
Heaven Is A Place On Earth [live]
Do You Feel Like I Feel (single version)
Do You Feel Like I Feel (album version)
Do You Feel Like I Feel (dance mix)
World Of Love
Live Your Life Be Free [dance instrumental]
Half The World
Only A Dream
Live Your Life Be Free [original intro version]
Vision Of You (Remix '91)
Circle In The Sand
Love Never Dies
Little Black Book
Little Black Mix
Belinda's In The House Mix
The Air You Breathe
Only A Dream
Big Scary Animal
Windows Of The World
Change [8 track demo]
Too Much Water [8 track demo]
Lay Down Your Arms (single edit)
Tell Me
Wrap My Arms [8 track demo]
Here Comes My Baby [8 track demo
In Too Deep
I See No Ships
Jealous Guy
. (We Want) The Same Thing [Summer remix]
Always Breaking My Heart
Love Walks In
Ballad Of Lucy Jordan
Heaven Is A Place On Earth
Circle In The Sand
I Get Weak
Love In The Key Of C
Kneel At Your Feet
In Too Deep [live acoustic]
Circle In The Sand [live acoustic]
Too Much Water [demo]
Whatcha Doin' To Me [demo]
Don't Cry [demo]
California
Leave A Light On [live]
Live Your Life Be Free [live]
Heaven Is A Place On Earth [live]
Big Scary Animal [live]
I Get Weak [live]
In Too Deep [live]
All God's Children (edit)
All God's Children (full version)
Runaway Horses
Only A Dream
Sun (edit)
Sun (original version)
Goodbye Just Go
Live Your Life Be Free [MacMillan Mix]
Do You Feel Like I Feel [MacMillan Mix]
A Prayer For Everyone [edit]
I Still Love Him [edit]
In My Wildest Dreams
About this release
Belinda Carlisle is responsible for some of the best pop singles ever, from global number 1 hit "Heaven Is A Place On Earth" to "Live Your Life Be Free", via "Circle In The Sand", "Leave A Light On" and "(We Want) The Same Thing", all the way to her recent releases "Sun" and "Goodbye Just Go".
On 29 CD singles in individual card sleeves, this beautiful box set gathers up the many b-sides and additional mixes that were issued across the different formats of the singles released in the US and UK.
The bonus disc (CD 29) includes two extra mixes, two promo edits and the film soundtrack song "In My Wildest Dreams". Also included is a 24 page booklet.
Extra information about this release