Battle Hymns For Children Singing (Vinyl)
Haysi Fantayzee
Battle Hymns For Children Singing (Vinyl)
Haysi Fantayzee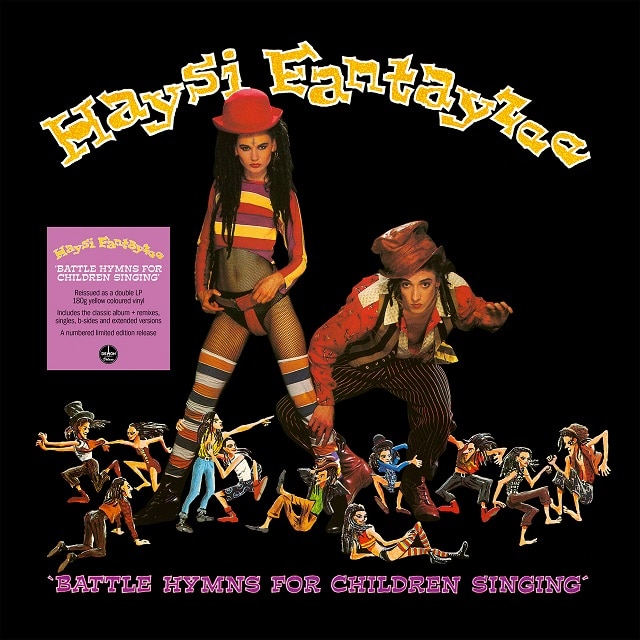 Release information
Release information
Label: Demon Records
• Format: Vinyl
• Date: 06/07/2018
Cat#: DEMRECDLX007
• Barcode: 5014797897052
• Genre: Pop
Track Listing
Shiny Shiny
I Lost My Dodi
More Money
Jimmy Jive Jive
The Sabres Of Paradise
Shoofly Love
Make Me A Sinner
Chizoola
John Wayne Is Big Leggy
Here Comes The Beast
John Wayne Is Big Leggy (Groovy Long Version)
Shiny Shiny (Dance Mix)
Holy Joe (12" Remix)
Sister Friction (12" Remix)
Holy Joe
Okay Big Daddy
Jimmy Jive Jive (Instrumental Remix)
Shiny Shiny Bon Temps (12" Version)
Sister Friction (Single Version)
John Wayne Is Big Leggy (Single Version)
In The Mix*
About this release
Continuing the successful Demon Records Deluxe range, the next title is Haysi Fantayzee's debut classic 80s Pop album Battle Hymns For Children Singing. Haysi Fantayzee was a quirky pop group known for their colourful style and successful debut single "John Wayne Is Big Leggy". With Jeremy Healy and Kate Garner on vocals, and Paul Caplin on keyboards. The band released this successful debut album in 1983 but split up soon after. This album had numerous hit singles and houses some of the most sought after remix singles of the 80s.
Packaged as a limited numbered double-LP gatefold with printed inner sleeves, on heavyweight yellow vinyl. This double LP contains the classic album along with a bonus LP of singles and remixes.
* 'In The Mix' was only ever available as a bonus track on cassette or a flexi disc promo and his been included for the completest even though the quality is not as high the other tracks.
Recommended titles