Band Of Gold + Contact + The Best Of + Reaching Out
Freda Payne
Band Of Gold + Contact + The Best Of + Reaching Out
Freda Payne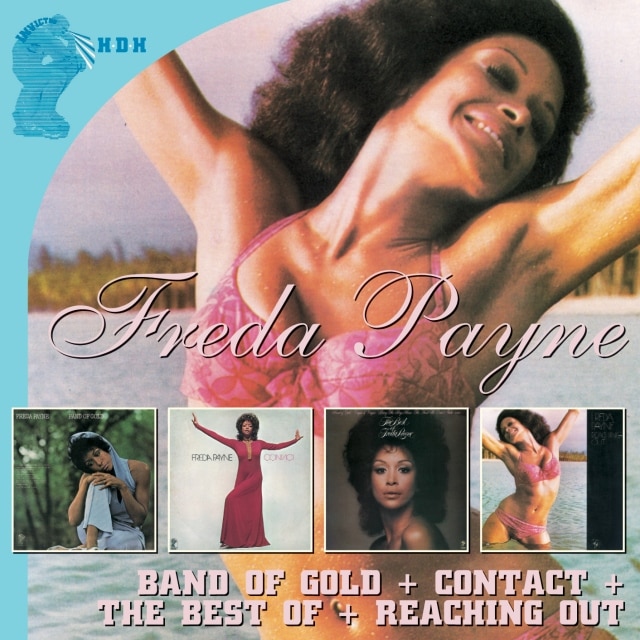 Release information
Release information
Label: Edsel
• Format: CD
• Date: 01/06/2009
Cat#: EDSD2054
• Barcode: 740155205430
• Genre: R&B and Soul
Track Listing
Band Of Gold
I Left Some Dreams Back There
Deeper And Deeper
Rock Me In The Cradle (Of Your Lovin' Arms)
Unhooked Generation
Love On Borrowed Time
Through The Memory Of My Mind
This Girl Is A Woman Now
The World Don't Owe You A Thing
Now Is The Tiem To Say Goodbye
Happy Heart
The Easiest Way To Fall
I'm Not Getting Any Better
Suddenly It's Yesterday
You Brought The Joy
Bring The Boys Home
You've Got To Love Somebody (Let It Be Me)
Prelude
The Road We Didn't Take
Odds And Ends
Cherish What Is Dear To You
I Shall Not Be Moved
Mama's Gone
He's In My Life
How Can I Live Without My Life
Just A Woman
Come Back
You're The Only Bargain I've Got
Deeper And Deeper (US single mix)
Band Of Gold (unedited alternate version)
Two Wrongs Don't Make A Right
Reaching Out
For No Reason
The Man Of My Dreams
Mother Misery's Favourite Child
We've Gotta Find A Way To Love
Mood For Love
Rainy Days And Mondays
If You Go Away (Ne Me Quitte Pas)
Right Back Where We Started From
About this release
This release contains everything released by Freda Payne on the Invictus label, including the worldwide # 1 "Band Of Gold". All these albums have been unavailable for many years and never together in such a good value package.
"Band Of Gold" (1970) features the hit title song (UK # 1, US # 3) and "Deeper And Deeper" (UK # 33). "Contact" (1971) features "Cherish What Is Dear To You" and the celebrated anti-Vietnam War song "Bring The Boys Home". The "Best Of" album contained not only Freda's hits, but a further five exclusive songs all featured here.
"Reaching Out" (1973) features Freda's covers of "Rainy Days And Mondays" and Jacques Brel's "If You Go Away". The two bonus tracks are the US single mix of "Deeper And Deeper" and an unedited alternate version of "Band Of Gold".
The booklet is fully annotated by HDH authority Tony Rounce, and features many rare photos