B Boy Hip Hop (Vinyl)
Various Artists
B Boy Hip Hop (Vinyl)
Various Artists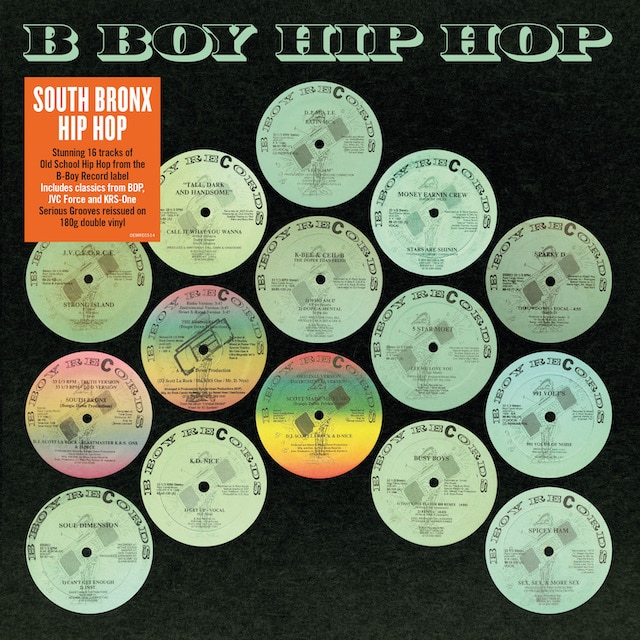 Release information
Release information
Label: Demon Records
• Format: Vinyl
• Date: 13/12/2019
Cat#: DEMREC514
• Barcode: 5014797900639
Sub Genre: Hip Hop
Track Listing
J.V.C. Force - Strong Island
Boogie Down Productions - South Bronx (Truth Version)
Soul Dimension - Can't Get Enough
Tall, Dark & Handsome - Call It What You Wanna
Boogie Down Productions - The Bridge Is Over (Vocal Mix)
K.D. Nice - Get Up (Vocal)
DJ M.A.T.E. and the Latin MC's - Let's Jam
K-Bee & Ceil-B - Who Am I?
D.J. Scott La Rock & D-Nice - Scott Made Me Funky
Positive Image - Serious Business
Money Earnin Crew - Stars Are Shinin
5 Star Moet - Let Me Love You
Busy Boys - That's The Flavor
Sparky D - Throwdown
991 Volt's - 991 Volt's of Noise (Vocal)
Spicey Ham - Sex, Sex & More Sex
About this release
B Boy Records was a significant player in the development of hip-hop in the 1980s, but a very short lived label shrouded in mystery.
This double LP selects the best of the independent label, from the beginning of the label to including past icons and future legends, hard-hitting drum programming, synthesize and sampled beats overlaid with fierce battle rap swagger. This is a snapshot of hip-hop history
The label is best known for issuing the hugely influential Boogie Down Productions LP Criminal Minded, which is included twice on this release with 'The Bridge Is Over' and 'South Bronx'
Other highlights include JVC Force's enduring classic 'Strong Island', DJ Scott La Rock (founding member of BDP) & D-Nic and all-female rap Sparky D, 5 Star Moet
The double vinyl LP packs in 16 tracks, presented on 180g heavyweight classic black vinyl with printed inner sleeves