Average White Band – Anthology
Average White Band
Average White Band – Anthology
Average White Band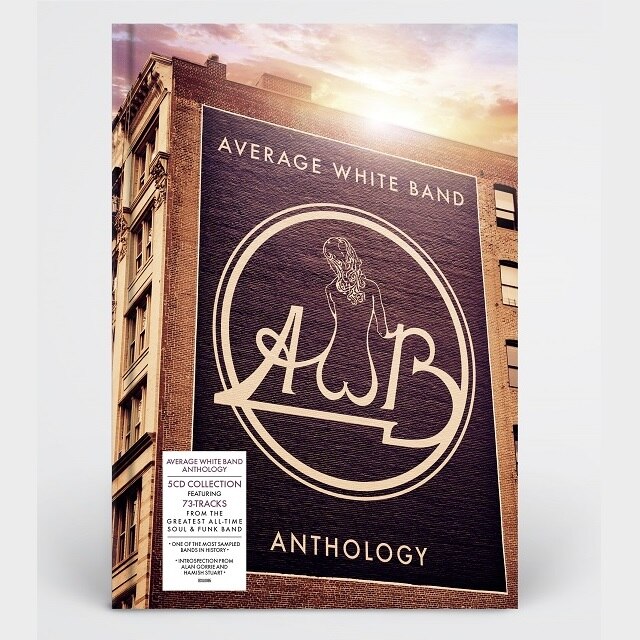 Release information
Release information
Label: Edsel
• Format: CD
• Date: 03/07/2020
Cat#: EDSL0065
• Barcode: 740155726539
• Genre: R&B and Soul
Track Listing
Pick Up The Pieces
Cut The Cake
Show Your Hand
Work To Do
Queen Of My Soul
A Star In The Ghetto - with Ben E. King
Atlantic Avenue
Keepin' It To Myself
Twilight Zone
Whatcha' Gonna Do For Me
Walk On By
Feel No Fret
School Boy Crush
Put It Where You Want It
Let's Go 'Round Again
The Jugglers
Got The Love
Groovin' The Night Away
Sweet & Sour
I'm The One
Reach Out
Your Love Is A Miracle
Person To Person 3
Daddy's All Gone
When Will You Be Mine
Big City Lights
T.L.C
Back In '67
Stop The Rain
Overture
If I Ever Lose This Heaven
Get It Up For Love
I Just Can't Give You Up
How Sweet Can You Get
Nothing You Can Do
A Love Of Your Own
Love Your Life
Would You Stay
For You, For Love
Isn't It Strange
Love Gives, Love Takes Away
Digging Deeper (Finale)
How Can You Go Home
Work To Do [7" Edit]
Cut The Cake [7"" Edit]
Queen Of My Soul [7"" Edit]
Get It Up For Love [7"" Edit] - with Ben E. King
A Star In The Ghetto [7"" Edit] - with Ben E. King
Your Love Is A Miracle [7"" Edit]
Feel No Fret [7"" Edit]
For You, For Love [7"" Edit]
Shine
Walk On By [12"" Version]
Let's Go Round Again [12"" Version]
The Jugglers [First Version]
How Sweet Can You Get [First Version]
Back In '67 [First Version]
Reach Out [First Version]
Pick Up The Pieces [Early Version]
This World Has Music
McEwan's Export
In The Beginning
White Water Dreams
It Didn't Take Me A Minute
Wasn't I Your Friend
Miss Sun
Kiss Me
Love Won't Get In The Way
Growing Pains
I'm Gonna Make You Love Me [Live]
Pick Up The Pieces [Live]
I Heard It Through The Grapevine [Live]
About this release
'Anthology' Is prefaced with an historical introspection by Alan Gorrie and Hamish Stuart.
The legendary average White band tore-up the rule book and conquered the US, UK & international charts with a series of soul and disco hits between 1974 and 1980. However, awb's rich and deep catalogue has also been a source of inspiration and influence for many R&B acts and they are one of the most sampled bands in history, remaining relevant today, continuing to reach new generations of younger audiences. Snoop Dogg, Fatboy Slim, Ice Cube, Puff Daddy, TLC, Rick Ross and will.I.Am amongst countless others, have all borrowed sections of their grooves.
'Anthology', a 73 track/5CD set, is more than a collection of awb's recordings. It explores their journey that started in the early-'70s forging a legacy that transcended the decades and provided a source of inspiration for today's groove-merchants and EDM DJs.
Curated by AWB and focussing on the period from their earliest recordings through to their final album for Arista in 1982, Each individually themed CD – The Classics/ sampled (jazz, blues & funk)/ Sampled (soul & funk)/ 7″, 12″ & early versions/ rarities & live recordings – showcases their versatility and why average White Band became widely and rightly regarded as one of the best ever soul and funk bands. Average White Band remain highly influential and this 73 track 'anthology' Shows exactly why they have remained so powerfully important.
Extra information about this release