At Their Very Best (Vinyl)
The Shadows
At Their Very Best (Vinyl)
The Shadows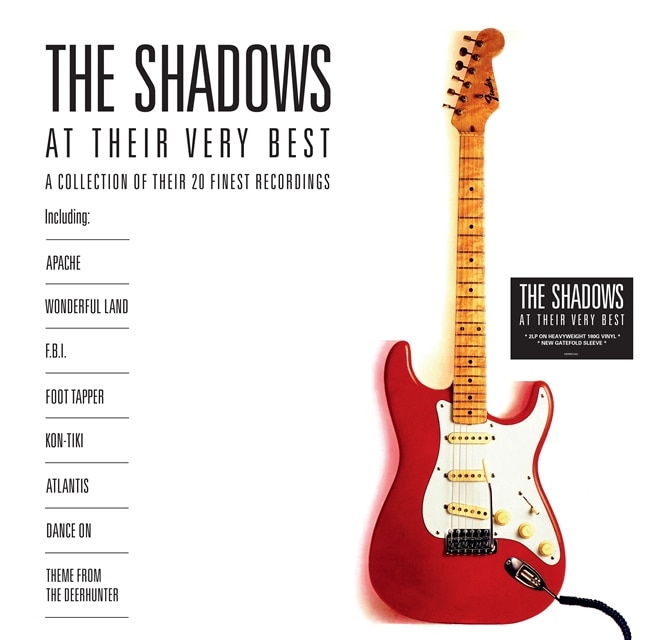 Release information
Release information
Label: Demon Records
• Format: Vinyl
• Date: 03/11/2017
Cat#: DEMREC242
• Barcode: 5014797896604
• Genre: Rock
Sub Genre: Rock N' Roll
Track Listing
Apache
Man Of Mystery
Shindig
Wonderful Land
The Rise And Fall Of Flingel Bunt
The Theme From "The Deerhunter" (Cavatina)
The Boys
The Frightened City
Theme For Young Lovers
Dance On
The Savage
F.B.I.
Guitar Tango
Genie With The Light Brown Lamp
Atlantis
Foot Tapper
Don't Cry For Me Argentina
Kon-Tiki
Geronimo
The Stranger
About this release
The Shadows remain one of the most prolific bands of the last 60 years and were the first to pioneer the now familiar line-up of two guitars, bass and drums.
In 1989 The Shadows entered the studio to create 20 brand new recordings of their most popular hits, all of which re-produced with the added benefit of new studio technology. At Their Very Best is a collection comprised of the tracks from this gold-status album that reached No. 12 in the UK charts during December '89.
At Their Very Best – not re-issued on vinyl since its original release – now enjoys a 2LP formatting, which allows a deeper studio 'cut' resulting in a bigger, richer sound. The re-worked artwork is now made available in a Gatefold Sleeve. A must have collection for vinyl lovers!