Aswad – Gold
Aswad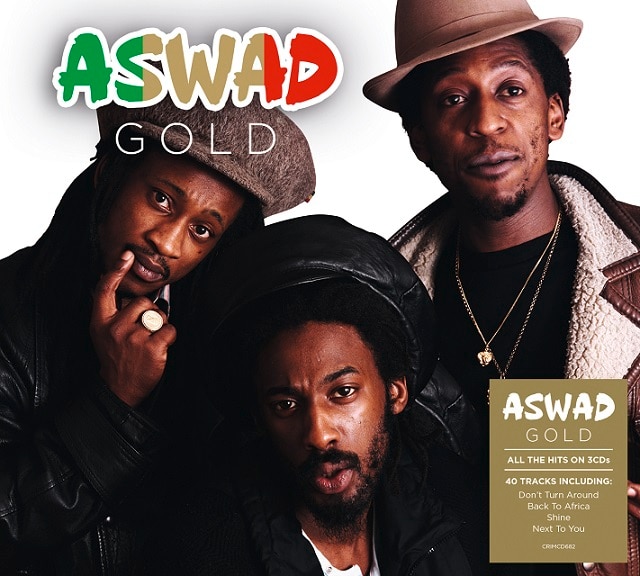 Release information
Release information
Label: Crimson Productions
• Format: CD, Digital
• Date: 14/08/2020
Cat#: CRIMCD682
• Barcode: 0654378068225
• Genre: R&B and Soul, Reggae
Track Listing
Don't Turn Around (Edit)
Shine (7" Beatmasters Mix)
Back To Africa
Next To You (Edit)
Shy Guy Aswad and Easther Bennett
Give A Little Love (Edit)
You're No Good (7" Beatmasters Mix)
Beauty's Only Skin Deep
So Good
Heartbeat
Dancehall Mood (Radio Edit)
One Shot Chilla (Radio Mix)
Deeper Than Deep
54-46 (Was My Number)
Dub Fire
Can't Stand The Pressure
2 Makes 1
I A Rebel Soul
Warriors (Beatmasters 7")
Judgement Day
Day By Day
Roxanne
If I Was
Not Guilty
Fever
Just A Little Herb
Danger In Your Eyes
World Of Confusion
What I Know
Shine (12" Beatmasters Mix)
Don't Turn Around (12" Mix)
Next To You (Jazz Mix)
You're No Good (12" Beatmasters Mix)
Babylon (12" Mix)
Rainbow Culture (12" Mix)
Dub Warriors (Beatmasters Dub Mix)
Dancehall Mood (Extended Mix)
Java (12" Mix)
Shine (Todd Terry Dance Mix)
One Shot Chilla (Underwolves Mix)
About this release
Crimson presents Aswad 'Gold', the only Aswad compilation you'll ever need.
Arguably Britain's most successful reggae band, Aswad have been performing together since the mid 1970s and have released over 20 albums. This new compilation includes tracks from across the group's career including their early roots reggae recordings to their later pop-reggae fusion hits. All 3 of Aswad's top 20 hits are included: the UK #1 single 'Don't Turn Around' which topped the charts 1988, the follow up single 'Give A Little Love', and 1994's 'Shine' which peaked at #5.
CD 1 opens with the group's best known hit 'Don't Turn Around' which was a top 10 hit across the globe and peaked at #1 in the UK singles charts. Other highlights on this CD include early hit 'Back To Africa', the 7" Beatmasters mix of 'Shine' which hit #5 in the UK singles chart in 1994, and a cover of Toot and the Maytals's rocksteady classic '54-46 That's My Number'.
CD 2 features even more Aswad classics including 'Dub Fire', 'Can't Stand The Pressure' and a cover of the Police's 'Roxanne'.
CD 3 features a collection of alternate mixes together on CD for the first time. Including 12" Beatmasters versions of 'Shine' and 'You're No Good' along with the Underwolves mix of 'One Shot Chilla' and the 12" mix of 'Don't Turn Around'.
Highlights are also available on a 1 LP version, pressed on 140g vinyl.
Extra information about this release